Regionally, our Zoo professionals work with local, state and federal organizations on research, rehabilitation and veterinary care for sea turtles and captive breeding, veterinary and reintroduction programs to prevent the extinction of the Houston toad and Attwater's prairie chicken since 1995.
Partnering with other local wildlife non-profit organizations, the Zoo strengthens whooping crane and local bird community awareness and protection programs and provides guidance and assistance for local wildlife and habitat threat reduction efforts.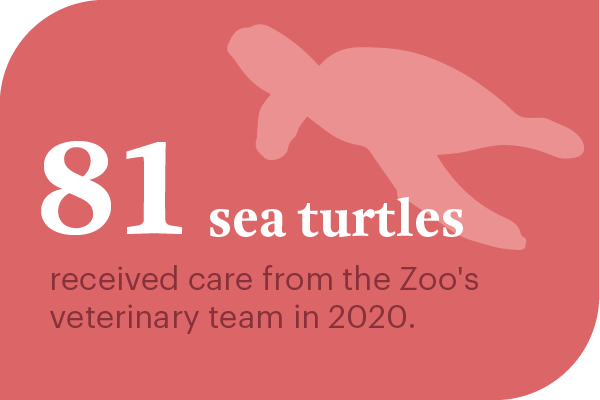 Saving Animals in the Wild
Since 1995, partnering with local and federal government agencies, the Houston Zoo has raised and released thousands of Attwater's prairie chickens into the wild. Native to Texas, this small, brown bird calls the coastal prairie grasslands home. This species is best known for "booming" – a dance done by males to attract females during mating season in which they stomp their feet and fill the orange air sacs on the sides of their neck, creating a sound that can be heard up to half a mile away! With historic populations numbering close to 1,000,000 birds, it is estimated that less than 100 of these birds are left in the wild. The Houston Zoo manages the captive breeding program for the Attwater's prairie chicken. We have breeding facilities both behind the scenes at the Zoo and at NASA's Johnson Space Center.  When the birds hatch and grow large enough, they are slowly introduced and then released into the wild, where they will support the already existing populations. 
The Houston Zoo was one of the first groups willing to step up for the Houston Toad and have championed their conservation for over 40 years. Partnering with local and federal government agencies, the Zoo participated in various research projects and population studies on wild Houston Toads. In the 1980s, the Zoo started the first Houston Toad breeding program. Over the next several decades, a Species Survival Plan® (SSP), was developed by the Association of Zoos and Aquariums. This plan, in conjunction with the Zoo's growing assurance colony, would serve as a veritable genetic ark for the species; allowing for continued breeding of healthy toads to be reintroduced into their historic ranges. Thousands of head-started "toadlets" were released during these years. The Houston Zoo's Houston Toad Recovery Program of today maintains the same mission it always has — to put ourselves out of business; to recover the wild population of Houston Toads to the point where our program is no longer needed. Every year since 2013, the Zoo has released hundreds of thousands of eggs, totaling about 5.5 million as of last year. This groundbreaking technique of releasing mass quantities of eggs now serves as the benchmark for success among wildlife restoration efforts. 
The Houston Zoo has operated a sea turtle rescue, rehabilitation, and release program for more than 30 years; however, this is the first time in its nearly 100-year history to be able to highlight sea turtles in a large, multi-dimensional habitat.   
The Zoo leads efforts and supports sea turtle rescue and rehabilitation on the upper Texas coast with USFWS, NOAA and Texas A&M Galveston. These partners conduct wildlife research, develop education programs and work with local stakeholders to reduce threats to wild sea turtles. 
Houston Zoo staff provide husbandry and veterinary care for stranded and injured sea turtles found on the Texas coast. We have teams that monitor fishing piers and patrol Galveston beaches to retrieve sea turtles in need of medical care.  
Here in Southeast Texas, the Houston Zoo has programs to help reduce wildlife entanglement, including cleanups in Galveston to reduce the amount of discarded fishing line and other litter that can have negative impacts on marine wildlife.    Sea turtle populations in the Gulf are slowly recovering thanks to the collaborative effort of scientists, non-profits, universities, grassroots organizations, and many dedicated volunteers.  
In 2014, the Zoo initiated support for Texas whooping crane conservation through sponsorship of the Annual Whooping Crane Festival in Aransas, Texas. This festival was created by Dr. George Archibald, Co-Founder of the International Crane Foundation (ICF) in 1996 to raise awareness and celebrate the annual return of the cranes to their wintering habitat at the Aransas National Wildlife Refuge.  
Once numbering as few as 15 birds, the whooping crane population is now over 500 and growing thanks to 65 years of intensive work by conservationists in the U.S. and Canada. The last migrating wild flock makes its winter home near Port Aransas, an area the Houston Zoo helps to protect in partnership with the International Crane Foundation. The Zoo provides support for programs that educate Texas communities about how to effectively reduce threats and protect habitat for whooping cranes.   
Inside Videos
KPRC Special: "Saving Wildlife: Texas"
Sea Turtle Rescue Flight from Cape Cod