Registration Dates
Camp Zoofari is SOLD OUT
Information regarding fall and winter camps will be updated in September.
Hours & Important Information
Drop Off: 8:45 – 9:15 am
Pick Up: 3:45 – 4:15 pm
Starting at $330 per week
For camper and staff safety, all drop-off and pick-up will occur curb side. For a full list of safety considerations, please see our "Changes to Camp" section below.
Camp space this season is limited, register early to reserve your space!
Changes to Camp
Houston Zoo Safety
For information on the safety standards currently used by the Houston Zoo, please visit the "Zoo's ticketing" page.
Both the Houston Zoo policies and Camp Zoofari policies are informed by current recommendations from local, state, federal health officials, agencies, and authorities, including CDC guidelines. As such, these policies may shift or change.
For any questions or additional information, please contact our Camp Zoofari Team by emailing education@houstonzoo.org or calling at 713-533-6739.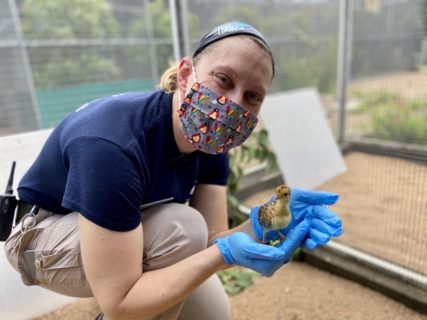 Updated Safety Procedures
Capacity has been reduced by 50% each week.
Camp will be offered for 8 weeks, from June 21 – August 13.
Camp groups will be distanced from one another while in camp spaces and encouraged to maintain distance from general Zoo guests while on grounds.
Each camp will function as a pod, remaining separate from other camp groups.
Campers and staff are not required to wear a mask outside of select animal experiences, though the Houston Zoo strongly encourages all unvaccinated guests to wear masks.
Access to camp spaces will be limited to Houston Zoo staff and campers. All drop-off and pick-up for campers will occur curb-side to help maintain the integrity of our camp spaces.
Camp games and activities, outside of Zoo tours, will occur in camp specific spaces.
Camp spaces will undergo a thorough daily cleaning, with supplies sanitized as they are used.
Frequently Asked Questions
Are there extended camp hours?
To accommodate necessary changes to Camp programming due to the Pandemic, we are not offering Before Camp Programming this Summer.
Are there scholarships available for Camp Zoofari?
Camp Zoofari will be awarding need-based scholarships for the 2021 season. To apply, each candidate must fill out a camper application as well as have a teacher or instructor submit a teacher application. A scholarship will defer the cost of a single week of camp, excepting a $35 registration fee.
Important dates:
Application Deadline – March 15
Primary Notifications – March 22
Secondary Notifications – April 5
If selected, campers will have a two week window to finalize their registration. After that window, their scholarship will be forfeit and offered to another camper, if applicable. For any questions, please contact us at education@houstonzoo.org. All communication regarding this opportunity will be conducted via email.
How will drop-off and pick-up work?
A lane will be designated for drop-off and pick-up. Each car will pull up to be met by camp staff, who will screen each vehicle and escort campers into our Education Center. For the safety of our staff and campers, we are asking all caregivers to remain in their vehicle during this process. In advance of each camp week, a welcome video will be sent with additional camp information and a map showing where to go upon arrival.
Can I pick up my child early?
We plan our days to make full use of our time. As such, pickup and drop-off outside of normal hours may lead to missed activities for your camper.
We will do our best to accommodate pick-up and drop-off outside of normal hours, though we cannot accommodate early pick-up between 3:15 -3:45.
Please contact education@houstonzoo.org to arrange alternate pick-up or drop-off times.
What will a regular day look like for my camper?
A regular camp day varies by theme, but will included tours throughout the Zoo. Information and stories will be shared that relate to each camp's theme. Games and activities will further support each theme. Throughout the week, campers will have visits from our Animal Ambassadors, as well as opportunities to feed the giraffes and ride the carousel.
Who will be supervising my camper?
Our Summer Camp staff, or Camp Guides, come from a variety of backgrounds, but all are experienced in working with kids in science and nature exploration. We select our camp staff based on their educational experience and scientific background. Many of our camp educators are full-time teachers during the year. They are supported each season with our teenage program participants, the Zoo Crew.
Both Guides and Zoo Crew undergo training ahead of each summer camp season on topics including animal information, positive behavior management techniques, critical and scientific thinking, and Zoo procedures.
Camp Zoofari operates under a Single Skill Exemption from the Texas Department of Health and Human Services.
Can I register my camper for a topic outside of their age group?
Each topic is developed with age-appropriate techniques and measures. As such, age requirements are not negotiable and are strictly enforced. Campers must fall within the specified age category on the first day of the camp session they are attending.  We divide the campers by their birthdate into smaller groups for Zoo tours and activities.
Is there a cancellation policy?
Due to the high demand for camp spaces, all sales are considered final. Patrons who provide a written notice of cancellation to education@houstonzoo.org on or before May 1 will receive a 50% refund of their camp registration fees. No refunds will be issued after this date, including participants who miss all or partial programs due to illness. T-shirt purchases are not refundable. The Houston Zoo reserves the right to cancel any program due to minimum enrollment, inclement weather or unforeseen circumstances, in which case a full refund will be issued. Cancellations are official upon receipt of confirmation from the Houston Zoo.
What should my camper bring each day?
You must bring the following:
Camp shirt
Close-toes shoes
Mask
Reusable water bottle
Lunch
You may want to also bring:
Weather-appropriate gear like hats, coats, rain coats, sunglasses, etc.
Sunscreen or bug spray. Please apply before dropping off your camper.  We are not able to apply.
Camera for older campers.
Does my camper need to wear their camp shirt each day?
Yes, a camp t-shirt must be worn each day of Camp Zoofari. One shirt is included in the registration fee.  You may purchase additional shirts at the time of registration for $10 apiece. Sizes are Youth XS (2-4), S (6-8), M (10-12), L (14-16), and Adult S, M, and L. If you are unsure of what size to order, please order a size larger to allow room for your camper to grow.
What do you do in the event of severe weather?
If Houston Zoo is open, Camp Zoofari is operating. To determine if camp is in session, please visit the Houston Zoo main page. Any closings will be announced on the homepage of our website. Closings will also be communicated via the Houston Zoo Facebook page. Please send campers in appropriate weather gear each day.
In the event of severe weather while campers are on grounds, they will be escorted into our indoor camp spaces. Activity times will shift to allow campers to continue to enjoy their day while waiting for the worst of the weather to pass.
What have previous campers shared about the Camp Zoofari experience?
"He said that it was his favorite camp. He said, "Zoo camp makes everything better!" Wow! Quite a statement from him"
"This was her first Camp Zoofari – and she loved every minute, couldn't wait to go back each day. She feels like she is a "zoo expert" now, which is fantastic!"
"My daughter LOVES Zoo Camp!! She chatters non stop about everything she learns each day. She is never this talkative and excited about other things. She is a walking, talking animal referencer book. We are recycling now and doing outside projects based on her interest from what she has learned."
How can I get in contact with you?