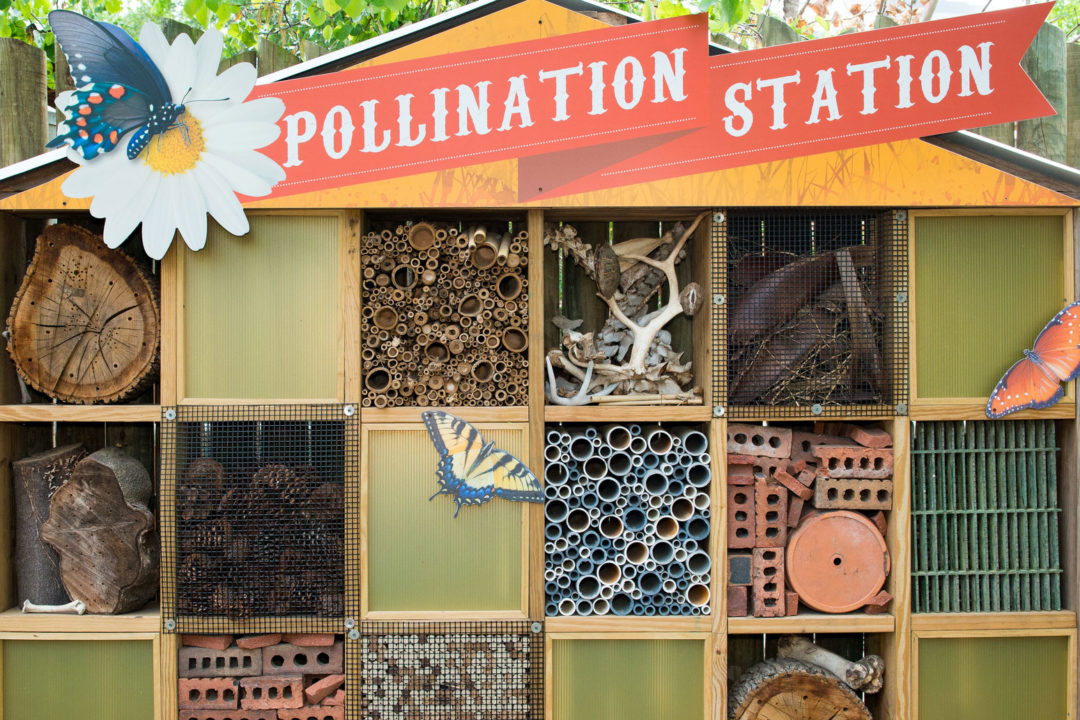 Easy Action: Offer water sources, safe spaces, and plant native plants for birds, bugs, and other wildlife.
How the Houston Zoo Helps
Houston Zoo has 14 native plant areas for pollinators like butterflies to eat and thrive on throughout the Zoo.
The Zoo's staff have used acoustic monitoring devices to find several different wild bat species thriving on Zoo grounds.
Since 2016, Zoo staff have ID tagged (placing tiny stickers on the wing) 161 monarch butterflies on Zoo grounds. ID tagging monarchs each fall helps researchers answer questions about the timing and pace of the monarch migration and helps to inform future protection plans.
The Zoo uses bird-safe window treatment to ensure that local and migratory birds are able to fly through the Zoo safely. You can see the bird-safe windows up close at the Cypress Circle Café in the Kathrine G. McGovern Texas Wetlands.
The Zoo now serves Bird Friendly coffee on Zoo grounds. Bird Friendly coffees are grown in a way that provides shelter and a variety of foods for birds. Bird Friendly coffee ensures that coffee farms provide vegetation cover that protects high quality habitat for birds and other wildlife.
Owl nest boxes in Explore the Wild and the Children's Zoo provide safe places for wild screech owls.
How You Can Help
Help protect monarch butterflies on their migration by ID tagging butterflies at home or at school! Click here to learn more.
You can help save bats in the wild by offering bat houses for them in your yards.  They will help you control the insects!
You can put our water sources for the bugs to drink. Shallow pools of water help bugs to refuel when traveling long distances. The Dragon flies love the Zoo's new Texas Wetlands exhibit!
Support local and migratory bird species by:

Turning off or dimming your lights during the bird migration time, from 11:00 p.m. to 6:00 a.m., between March-June 15 and August-October. Lights disorient migratory birds and can cause them to collide into windows at night. Removing light distractions at night helps save birds.
Planting native/local plants like Turk's cap and Texas frogfruit
Installing and maintaining a water feature
Installing and maintaining a nest box
Installing and maintaining a bird feeder
Click here, or check out our Quick Start Guide: Bird Friendly Neighborhoods Houston Zoo for tips on how to get started!