Returning Zoo Crew Options
Returning teens who are back for a second (or third or fourth!) Zoo Crew program have a wider range of exciting options available to them, including the chance to work in animal care as a Junior Zookeeper, educate guests as a Naturalist, or continue to work with our Camp Zoofari program as a Camp Mentor.
Year-Round Zoo Crew provides participants with a range of enjoyable and challenging work experiences. These posts typically occur on weekend or school holiday days, though participants must plan ahead to ensure their Zoo Crew commitments do not conflict with other extracurricular activities.
This highly-motivated group of returning Zoo Crew members will lead and mentor their Zoo Crew peers. This is an opportunity for returning Zoo Crew to build leadership skills while providing insight into how we can improve the Zoo Crew program.
Teen International Travel Opportunities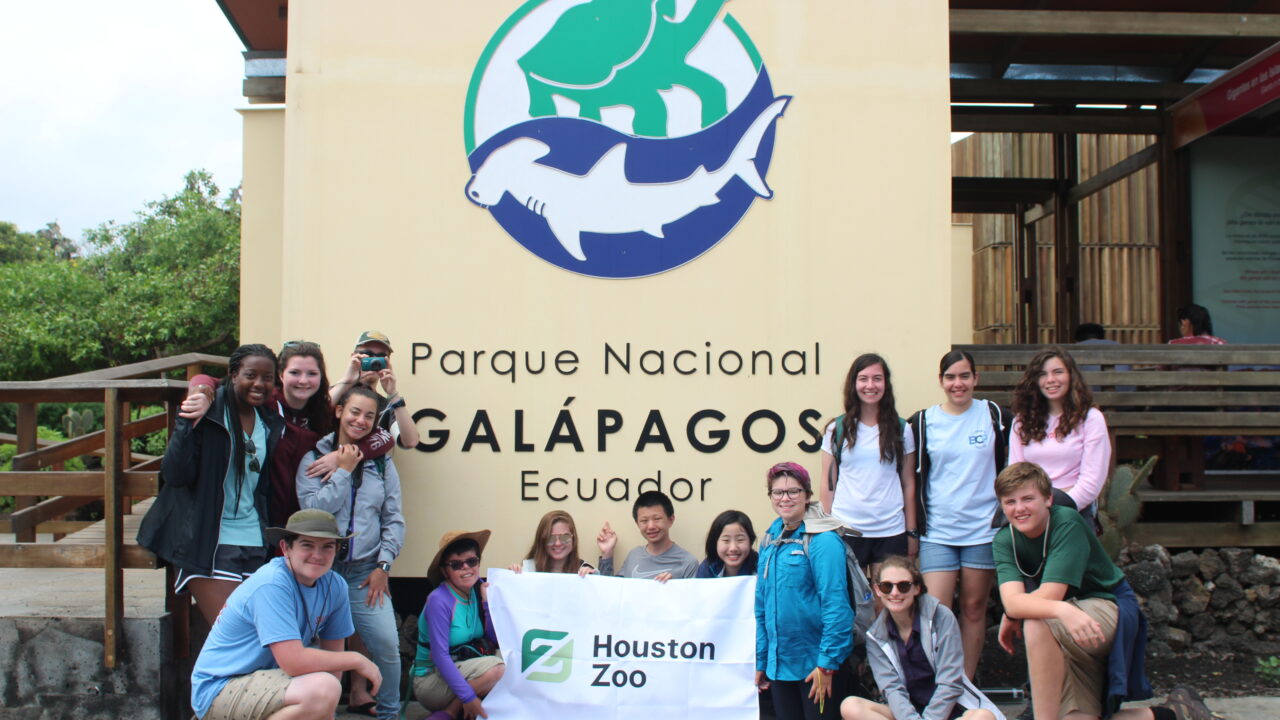 Location to be announced soon!
Returning Zoo Crew members have the opportunity to apply for our International Adventure Programs. Details about the 2024 Teen International Adventure Program coming soon!
Other Opportunities for Returning Zoo Crew
Alban-Heiser Conservation Award
The Alban-Heiser Conservation Award was established by former director of the Zoological Society of Houston, Joseph M. Heiser, Jr., in 1970 to honor "a Texas citizen who has made significant contributions to the appreciation and preservation of the earth's heritage of living creatures, their environment, their ecology, and/or their relation to human welfare." Notable recipients of the award include Gladys Porter, Merlin D. Tuttle, and Terry Hershey.
The award selection committee has now opened this award up to current Zoo Crew members who have made a notable contribution to the protection of Texas wildlife and their wild spaces. To be considered for this award Zoo Crew must meet the following criteria:
Applicant must have made a notable contribution to the protection of Texas wildlife and their wild spaces.
Actions must align with Houston Zoo's initiatives to reduce threats to local Texas wildlife.
Actions must be initiated and led by the teen applying for the award.
Priority will be given to direct actions to reduce threats to wildlife, but award considerations will be given to those who raise funds to help with Texas conservation efforts.
Application Process:
Zoo Crew members in good standing are eligible to apply. To be considered, eligible Zoo Crew must fill out an online application; consideration is not automatic.  Nominations and recommendation letters are not necessary.  Applications will be accepted and reviewed on a rolling basis and selection will be based on the criteria described above.
Zoo Crew can apply once per year. If they receive an award and want to apply again in following years, additional applications will be considered based on activity expansion or new threat-reducing actions.
Award:
Up to three (3) awards of up to $500 each can be awarded annually based on the selection committee's recommendations. Recipients are required to share a brief bio, description of their threat-reducing activities and photo after awardees have been announced.
To be considered for this award, please complete the application below: