Available Volunteer Opportunities
All shifts are geared towards excellent guest service and engagement, and interaction with the public is an expectation of all volunteers. Below are different opportunities available. Volunteers can participate in as many opportunities as they qualify for. Please note that some of these options may require additional training and/or additional application processes after being accepted as a volunteer. 
Our next recruitment period will be from December 1st – December 23rd; the application link will go live on December 1st at 9 a.m.
Greet Zoo guests, answer questions and help everyone to have an amazing day. Guest Engagement volunteers are vital to ensuring guests know where they are going and what there is to see.
Support Zoo staff during educational programs and lead some program activities. Assistants in these programs ensure staff have all the materials they need, greet program participants, and support the staff throughout the program.
Assist staff with many events throughout the year. The opportunities can be during the day, weekends, or evenings, so they are sure to fit in many schedules! Volunteers can help with check-in, driving guests in electric carts through the Zoo to the event, lead fun activities, and much more.
Help Zoo staff supervise guest interactions at Giraffe Feeding and Children's Zoo.
Engage guests with the individual animals at the Zoo, helping to create empathetic connections. Interpretive Volunteers receive additional training to message conservation initiatives and develop storytelling skills to help relate guests to animals at the Zoo.
Volunteer alongside our keeper staff and assist with habitat cleaning, diet preparation, and more! Volunteers must complete 30 hours of shifts before they are eligible to apply for open keeper aide positions. There is an additional application and interview process for this role.
Help our amazing Horticulture team maintain the lush landscape around the Zoo! This early morning opportunity can be physically strenuous, but rewarding. Horticulture volunteers assist with everything plants – weeding, mulching, planting, watering, etc.
Help departments across the Zoo with special projects – volunteers are called on to help with a variety of projects, including creating enrichment for our animals, putting new substrate into animal habitats, conducting animal behavior and/or visibility studies, and so much more!
Interested in Joining our Family?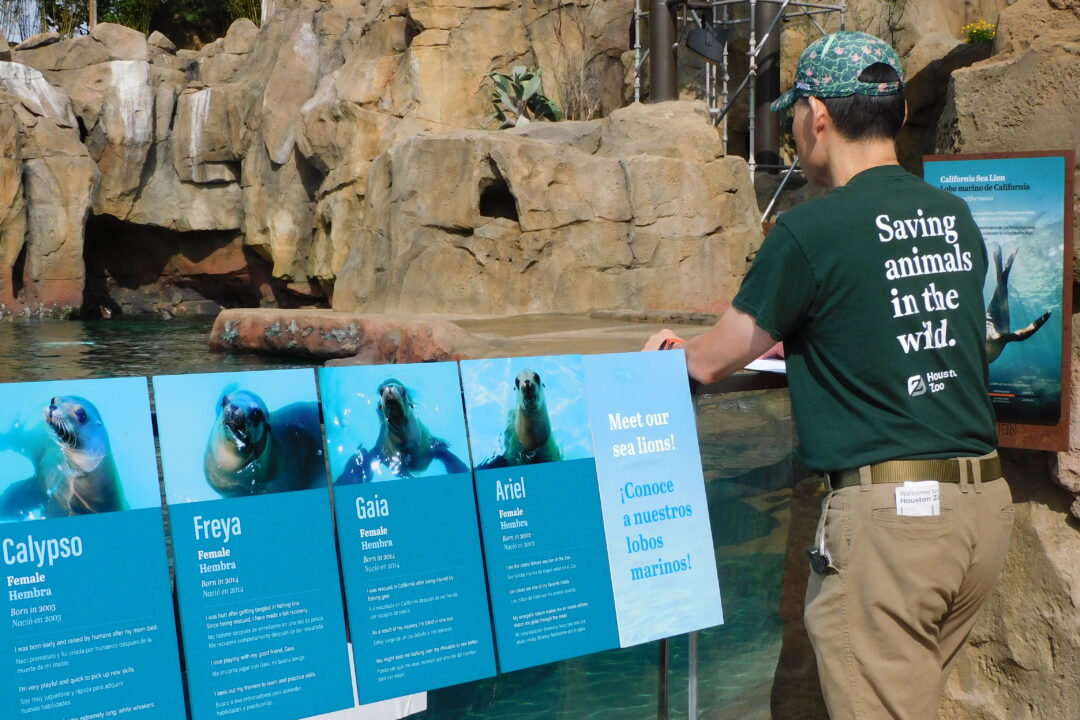 Requirements
60-hour annual commitment
Due to background check procedures, you must be legally authorized to work in the USA
Ability to communicate in English (additional language fluency is a plus!)
A negative TB test result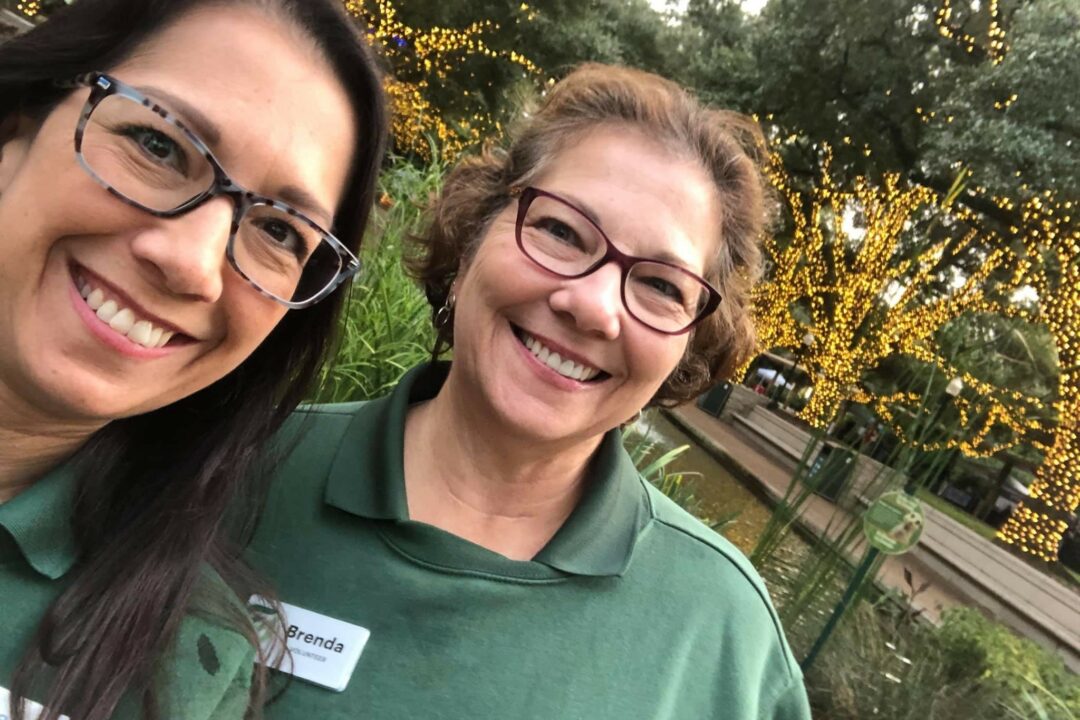 How to Apply
Our next recruitment period will be from December 1st – December 23rd

Applications will be posted on our website on December 1st at 9 a.m.

Selected candidates will be asked to attend Interviews within 2 weeks once the application is closed
Those being asked to join our program will select an orientation date, proof of a negative TB test, and successfully complete a background check
Attend orientation and then welcome to our volunteer family!
Frequently Asked Questions
How much does it cost to volunteer?
Here is a summary of the fees you can expect:
Background Checks start at $37. If you have lived internationally or in specific states/counties, your fees might be higher. For an estimate of additional background check fees, click here.
TB tests are done at your own cost and can vary depending on where you get them done. The average cost is $20-$30. TB tests can be obtained from your primary care physician or from most walk-in clinics.
There is a $30 fee for all new volunteers. This includes a uniform T-shirt, nametag, access badge, and parking pass.
Do you offer internships?
We do not offer internships at this time and do not have a date of when we will resume them in the future.
How does scheduling work? Will I be able to fit volunteering in if I work full time?
Volunteers are asked to commit to 60 hours annually. However, shifts are self-scheduled and throughout the day so you can decide what fits best with your availability. We recommend doing 5-6 hours per month in order to stay on track for your commitment. Some keeper aide shifts require weekly attendance. There are evening opportunities, but they are not offered consistently and should not be relied upon to make your commitment.
What are typical shift times? Are there evening or weekend opportunities?
Most guest-facing shifts are built into 2-hour blocks throughout the day, starting at 9:00 a.m. until close. Keeper aides usually start around 7:00 a.m. and those shifts can be anywhere from 4-8 hours depending on the animal department you select. There are evening events/shifts that can run as late as 12:30 a.m. however these are not offered on a regular basis. Volunteers can also opt for Zoo Lights shifts which are November – January and are typically 6:00 p.m. – 10:00 p.m.
There are volunteer shifts available 7 days a week and volunteers are welcome to sign up for weekdays, weekends, or both!
Is everyone who applies accepted as a volunteer?
As amazing as it would be to accept assistance from every person who applies, we must limit the number of accepted volunteers for each recruitment cycle. However, you don't need to have an animal background or to be an expert to volunteer! We look for people who are flexible, positive, and want to have fun, no matter what shift they are doing.
Volunteers willing to do a variety of shifts to help support the Zoo's mission are what we need. Typically, volunteers who are only interested in one type of shift do not do well in our program. Enjoying interacting with Zoo guests is essential for you to thrive as a volunteer.
We also look at availability. If you are only available on Saturday evenings, there may not be enough opportunities to help you make your annual 60-hour commitment.
So, be honest in your application and tell us why you would be an amazing addition to our volunteer family!