TXU Energy Presents Dragons
Come face to face with massive, legendary creatures – the first exhibit of its kind in the U.S. SAVE with a Value Pass! This all-day access pass includes unlimited walks through TXU Energy presents Dragons, general Zoo admission, a souvenir conservation bracelet, and unlimited Wildlife Carousel rides.
Dates: March 7 – September 7
Pricing: 
Adult Value Pass (ages 12+): $27.95
Child Value Pass (ages 2-11): $24.95
Add-on Pass: $6.95
Dragons Add-On Pass
Zoo Members: $5.95
Daytime General Admission and Wildlife Carousel Tickets
Help save animals in the wild by purchasing daytime general admission and wildlife carousel tickets.
Daytime General Admission Pricing:
Adult (ages 12+): $22.95
Child (ages 2-11): $17.95
Senior (ages 65+): $17.95
Wildlife Carousel Ride: $4.00 (Single, one-time ride)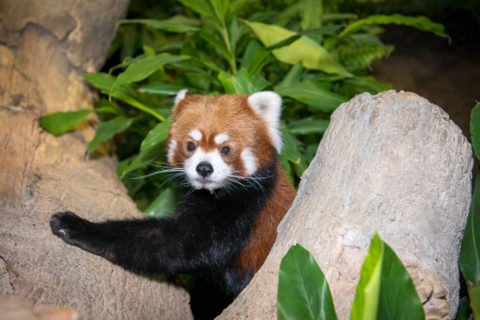 A portion of each Houston Zoo ticket purchase goes towards protecting animals in the wild.
Discounts & Offers
Student Discounts
Free or discounted admission for registered students attending the following institutions of higher learning located within the Houston city limits. You must present a valid current student ID.
One free admission per student, per visit:
University of Houston
Rice University
St. Thomas University
Texas Southern University
$2 off, limit one discount ticket per student per visit:
Houston Baptist University
Houston Community College System
South Texas College of Law
Free Tuesdays
Free daytime admission to the Houston Zoo is provided once a month, typically on the first Tuesday of each month, September through May, from open until closing. In January, our free Tuesday is on the second Tuesday. Please note that this offer does not include Zoo Lights, the carousel, giraffe feeding, or other events/attractions.
Group Tickets
Available for purchases of 20 or more General Admission tickets.
Children 2-11 – $1 off
Adults 12-64 – $2 off
Senior 65+ – $1 off
Buy online with no advance notice needed. Tickets valid from 90 days of purchase. Group tickets cannot be purchased at the gate. Houston Zoo membership cards are not permitted for group admission. Late arriving group members must pay the general admission rate.
Corporate Discounts
The Houston Zoo offers ticket and membership discounts to employees of our Corporate Partners via the Houston Zoo website.
Have a Corporate Partner discount code?
Find out how your company can become a Corporate Partner of the Houston Zoo:
Questions? Email Hunter Halbert, Director of Corporate Partnerships.
U.S. Military Discounts
Members of the U.S. military, their families, and veterans receive discounted general admission tickets with valid military ID.
Adult $12
Child $10
Guests with a U.S. military ID can purchase up to two (2) adult and three (3) children's tickets per day. Please note that the member of the U.S. military must be present with their ID at the time of purchase. Also, present your Active US Military ID and receive 15% off any Houston Zoo membership.
METRO Discount
$2 off Adult Zoo Admission
$1 off Child Zoo Admission
Present your METRO Q Card or any METRO bus or METRORail ticket at the zoo admission booth (one offer per person). For more information on the METRORail system, including a map, schedule and fares, visit www.ridemetro.org, or call METROLine at 713.635.4000.
Lone Star Discount
For $6 per ticket (child and adult), guests who currently receive Lone Star benefits may purchase up to two adult and three child tickets per day. Guests must present their Lone Star card at the gate for verification.
Includes only general admission. Not included: Zoo Lights, carousel, giraffe feeding, stroller/wheelchair/scooter rental, food or drink, classes or tours, and gift shop purchases.
Are there any restrictions?
Tickets are issued on the day of visit only. All party members including the primary Lone Star benefit recipient must be present; no advance tickets will be issued.
Questions? Find out more about the Lone Star discount:
Members of Other Zoos
Your Houston Zoo membership can get you a discount at many zoos around the country! Have a membership at another zoo? You might receive a discount at the Houston Zoo by presenting your membership card.