We are currently transitioning to a new registration software system and are unable to take reservations at this time. Please check back soon.
If you have questions please contact education@houstonzoo.org
Virtual School Programs Mailing List
If you would like to be contacted when registration re-opens, please provide an email address below.
Virtual Options for Your Students
Available to book Monday through Friday
Tailored for grades K–12
Intended for one or more classrooms to connect at a time (up to 100 connected devices)
Using the Zoom platform, connect with us to take a virtual tour of the Zoo and learn about the animals who live here and how you can help save animals in the wild. This program is interactive and uses multiple methods including live video from our Zoo habitats, up-close animal visitors and other means to create a memorable learning experience.
$125 for 30-minute program includes:
Introduction from our Zoo educator expert
You choose two animal areas listed below
An up-close animal visitor
Live Q&A with our Zoo educators
$175 for 45-minute program includes:
All the above
Plus one additional animal area
Plus one additional up-close animal visitor
Animal Sections to Choose From:
• Asian Elephant Herd
• Big Cats
• Great Apes
• Farm Animals
• Texas Wetlands
Available to book Monday through Friday
Tailored for grades K–12
Up to 30 students per program

Using the Zoom platform, join us on an adventure to connect with the Houston Zoo and learn how you can help save animals in the wild. Through dynamic videos, discussion with Zoo educators, and up-close animal visitors, your class will enjoy this engaging program with plenty of student interaction.
$100 for 30-minute program includes:
Exclusive pre-recorded video of our animals with live Zoo expert narration
Two up-close animal visitors
Live Q&A with our Zoo educators
$150 for 45-minute program includes:
All the above
Plus one more up-close animal visitor
Topics to Choose From:
Animal Adaptations
Habitats
Texas Animals
Order Up!
Zoo Careers
Available to book Monday through Friday
All ages welcome!
Maximum capacity of 100 connected devices
Using the Zoom platform, connect with us to meet some of our ambassador animals up close!  These handling animals are able to visit our virtual learning studio and provide an up-close animal meet & greet to create a memorable learning experience.  Have a specific topic you'd like for us to cover?  Just let us know!  We're happy to accommodate as feasible.
$150 for 45-minute program includes:
Three up-close animal visitors
Live Q&A session with Zoo educators
For The Best Program Experience:
Connect with us on a device enabled with camera and microphone.
Houston Zoo utilizes the Zoom platform, but we can accommodate other video conference systems.
We will send the program contact detailed connection instructions 7 days in advance of the program date.
What educators are saying about our Virtual School Programs:
"Presenters were friendly, knowledgeable, and enthusiastic which hooked my students, within minutes, to their wonderful presentation."
"You all have this virtual thing down! Very well organized and it's great to have IT on site for questions, letting participants in, etc."
"The students were enthralled, they loved every second of this virtual field trip!"
Optional Add-on
Ask an Expert!
$50 for an additional 20-minute experience includes your students chatting one on one with an animal care expert.
This add-on gives students a peek behind the scenes and the opportunity to answer all their animal questions.
Ambassador Animals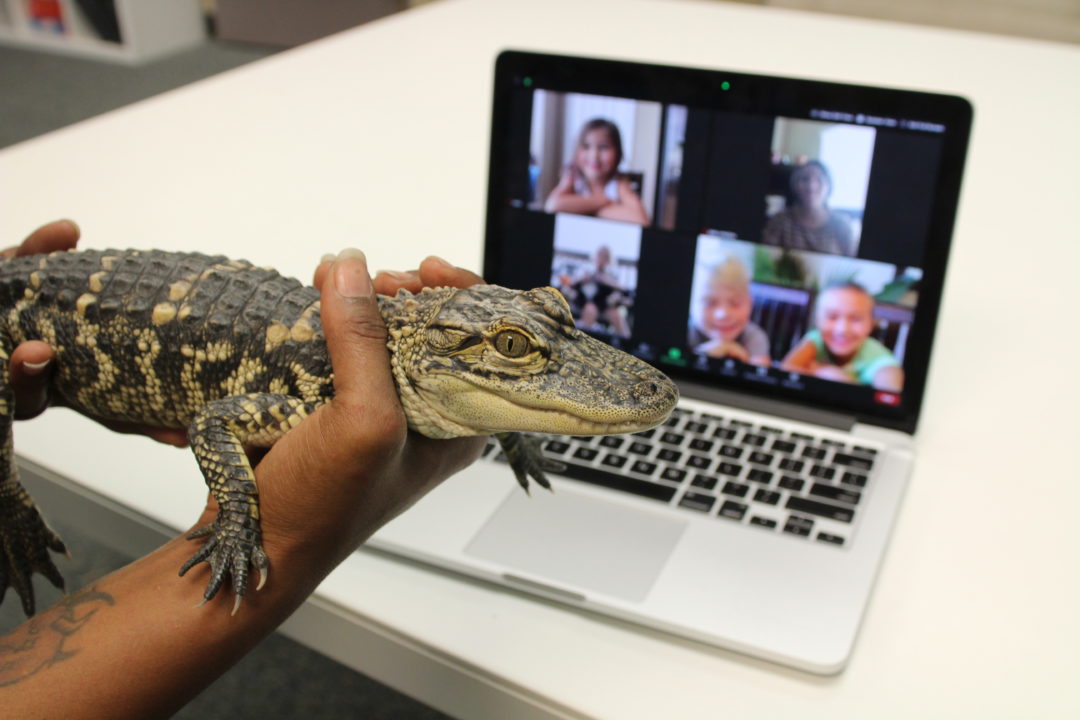 Virtual School Programs provide an opportunity for you to get up close and interact with our ambassador animals. Connect with a variety of animals such as lizards, an armadillo, porcupine and many more. Learn what they eat and how they are cared for as a member of the Houston Zoo family. Meet our amazing ambassadors and find out how you and your students can take action to save animals in the wild during your school program!
We'll surprise you with a selection of delightful critters; it is not possible to reserve specific animals when you schedule your virtual program.
Topics
Animal Adaptations
What do animals really need to survive? Animals have amazing adaptations! Explore the many animal traits that are must-have requirements for survival. From the fiercest hunters to the fastest sprinters, animals are equipped to thrive in the wild. Learn from a Zoo educator about the adaptations and survival stories of our ambassador animals.
Habitats
All animals need the same components from their habitats in order to survive: food, water, shelter, and space. Join us as we explore some of the world's most incredible landscapes; from sand ridden deserts to the tops of the rainforest we will discover unique places and meet some live animals that call them home.
Texas Animals
The Houston Zoo takes enormous pride in supporting efforts that save our native Texas wildlife.  From armadillos to alligators, learn about the variety of animals in our own back yard. We'll discuss their adaptations and strategies for survival that allow them to thrive in our unique climate, and learn about ways you can help save them too!
Order Up!
Animals eat different things to get the energy they need to survive.  Uncover the world of animal diets and learn about some of our Zoo animal's favorite foods!  Carnivores, herbivores, omnivores (and more!) will all be discussed during this program; perfect for our younger pre-K audiences.
Zoo Careers
Try a zoo career on for size! Explore some different tools of the trade that help a zoo run. Whether you want to work with animals as a keeper or veterinarian or maybe an architect and design exhibits for animals; a zoo is like a mini-city where everyone plays a role with a different skill set that is needed in order to care and protect animals. This program opens student's eyes to the diversity of careers associated with a zoo and how to prepare for them.
Need more information? Don't see a program that fits your needs?
Contact us at education@houstonzoo.org, and we can answer your questions.