Zoo News Blog
Congrats to our Zoo Crew Scholarship and Conservation Award Recipients
2021 Zoo Crew Scholarship Recipients
Every year, the Houston Zoo Teen Programs honors several exceptional teens from our Zoo Crew program with a $2,000 scholarship. Recipients are chosen based on their dedication and outstanding performance in the Zoo Crew program. These are teens who have dedicated countless hours of their time to educating our guests, mentoring our campers, caring for our animals, and taking action to save animals in the wild. The scholarships are funded by Houston Zoo and the Don and Diane Kendall Zoo Crew Scholarship Fund. This year we have selected three outstanding and motivated teens as the recipients of the 2021 Zoo Crew Scholarship.
Skyler Nix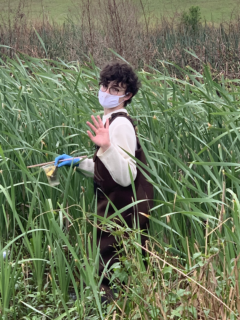 Hi, my name is Skyler Nix. I've been a part of the Zoo Crew program for the past five years of my life. I was a founding member of the Zoo's Teen Leadership Council and served as a Lead Naturalist for two years. Today, I am the leader of the Zoo's Snake-Saving Campaign, working to foster new interpretations of and appreciation for these misunderstood species. In my community, I lead an observational purple martin project in which I manage and support a colony of over 40 purple martins. Zoo Crew has changed my perspective of the world as well as of my place in it.
As result of my experiences in this program, I have cemented my passions, wish to pursue a major in Environmental Science, and hope to one day be a leader in conservation!
Marcus Coyle
Ocean, or "beach water" as I used to call it. The ocean has always called to me, it is more than just a large body of water. It's life, it's spiritual, it's home.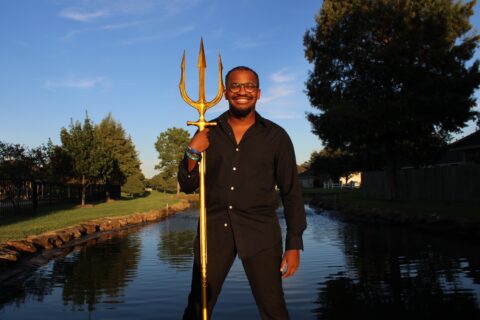 For over 10 years I have worked towards my dream as a future marine biologist and environmental conservationist. I am proud to have been involved in such a great program in Houston Zoo's Zoo Crew. The experiences I have been able to witness are unmatched. The support and teachings I have received has made the truest difference in my life. Before the Houston Zoo I had a decent understanding of conservation and public responsibility. Since joining the Houston Zoo's Zoo Crew I have grown as a young man who will confidently lead others towards a more sustainable world.
As the founder and president of Cypress Falls High School Conservation Club, I work to promote environmental health and accountability to students and administration alike. I also work with other environmental organizations like Texas Parks & Wildlife's Sea Center Texas to educate the greater community on aquatic science. As a certified diver I look forward to exploring and researching the many miles of ocean surrounding us. Taking care of the environment is my life's work.
Andrea Eysseric
I am a senior at Saint Thomas' Episcopal school. I enjoy playing sports, painting, and learning about animal welfare and the world of veterinary medicine. Over the past four years, I have been interested in learning how to help animals in any way possible. I began volunteering at a veterinary clinic to experience and better understand the relationship between the vet, pet, and owner. I was also able to watch procedures and see the complexities of the surgeries which only further ignited my interest in becoming a vet. Zoo Crew has not only taught me about conservation and wildlife but has given me confidence in my ability to learn and educate others which I will use to push myself academically through college and into my future career to make me a great leader.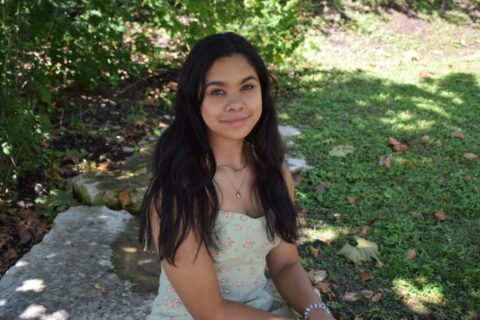 ---
2021 Alban-Heiser Conservation Award Recipients
The Houston Zoo values supporting the next generation of wildlife saving leaders. The Alban-Heiser Conservation Award was created to support a Texas citizen, citizens or organization in recognition of notable contributions to appreciation and preservation or the earth's heritage of living creatures, their environment, their ecology and their relation to human welfare. This year we have selected two outstanding teens in our Zoo Crew program who have made significant wildlife-saving actions in their communities.
Lauren Turner
I have been a member of Zoo Crew for five years but have been passionate about animals my whole life. I hope to continue my journey of saving wildlife by getting a degree in marine biology and dedicating my career to conservation.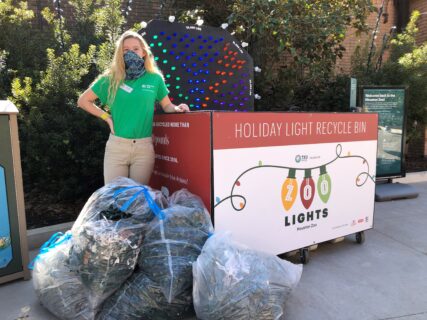 In winter 2020, I started a broken holiday light recycling project in my community where I left collection boxes around my neighborhood and school then brought them to the zoo to be recycled. The project was very successful, and I collected over 100lbs of broken lights. This year I am continuing this project by contacting local businesses and asking if I can put collection boxes there as well as contacting local Halloween and Christmas light installation companies and explaining to them that if I recycle these lights for them, it will be good for the environment.
Kate Wubbenhorst
I am a freshman at Lamar High School and a member of the Zoo Crew at the Houston Zoo. I love learning about and helping animals, especially pollinators! I planted this pollinator garden in February 2021 with Texas native flowers and plants. Most of my plants, unfortunately, died in the winter storm, but I replanted it in April and it has been doing great ever since!
My favorite flower in the garden is the Texas lantana. It's a beautiful yellow and I always see so many bees around it! Pollinator gardens are really important wildlife-friendly spaces that can provide a place for pollinators to get nectar and rest. Especially in big cities like Houston, where there are not many plants everywhere in the city, it's important to create spaces for pollinators to thrive. Since planting my garden, I have seen a lot of different pollinators, including all kinds of butterflies, solitary bees, and some wasps!