We love our Members. Their incredible support allows us to make a difference to animals both locally and all over the world. This month, we're spotlighting a  Zoo Member that deserves recognition. We're thrilled to introduce you to November's Featured Member: Shawn Knight
We asked the Shawn to tell us a little about what being a Zoo Member means to her. Here's what she had to say.

---
I love being a member of the Houston Zoo! I visit three or four times a week. I like to walk there after work in the evenings for exercise and to get some fresh air after being in an office all day. Monday evening is the best time…I have the whole place to myself! Plus, in the summer, the animals are more active in the evenings when it's cooler. The zoo is so clean, pretty and shady. It feels like a little oasis in the middle of the city. I like to make the rounds and see all the animals, of course, but if I'm in a rush before closing time, I will just zip around and see all the babies and youngsters. I have an individual membership so I sometimes bring a friend or family member with me. I also like to give zoo memberships as gifts.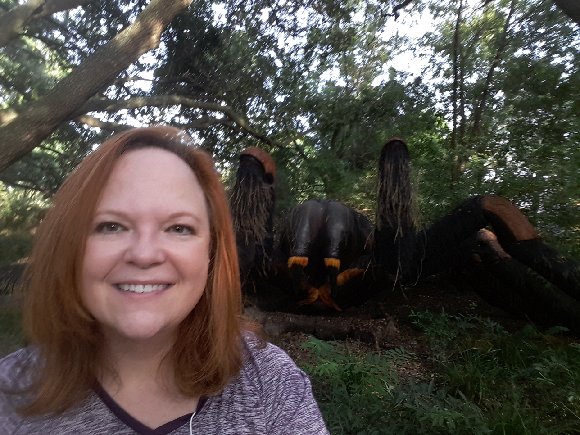 There are many things I love about the zoo, including watching the animals grow and develop. My favorite animal is Duncan, one of the young elephants. He is so clever and has a unique personality. He seems to be a good big brother as well, sometimes doting on Joy. I'm very fortunate to be there often enough to see these things. A highlight during the year is seeing the reclusive and adorable binturong at a weekend keeper chat. I also really love the special events like Feast with the Beasts and Zoo Lights, which are very fun and highlight how beautiful the zoo is at night. The special exhibits like Nature Connects (giant Lego animals) and the animatronic Bugs do an excellent job engaging kids and adults alike. The zoo staff is so friendly and knowledgeable. They do an excellent job taking care of the animals and also educating visitors. Even though I go often, every visit to the zoo is special because the animals are always doing something different and interesting.
I think the work the Houston Zoo does in the wild is extremely important, especially trying to help humans and animals co-exist in areas that both groups need to survive. I enjoy reading about the Wildlife Warriors in the email newsletters, and I'm pleased to know the zoo supports so many individuals and organizations doing good work around the world. It's always a treat to meet one of these people or other conservationists the zoo supports when they are visiting Houston. I enjoy talking to them about their daily work and their research and conservation methods and successes. Sometimes I wish I had chosen a different career path!
---
From all of us here at the Houston Zoo, we want to say thank you to Shawn and all of our Zoo Members. As a Houston Zoo Member, your support truly makes an impact on the growth of our Zoo and conservation efforts. THANKS!