Our admissions' team raises funds to help save animals in the wild through the sales of colorful wildlife bracelets guests can buy at the entrance to the Zoo.  In 2015, the Zoo established a conservation hero award program to use the bracelet funds to recognize and enhance the outstanding staff employed by the Zoo's existing conservation partners. The program, named Wildlife Warriors, has just awarded four new 2016 Wildlife Warriors from our conservation projects in developing countries. Each and every warrior honored was carefully chosen by the Zoo's admissions' team – the group of folks our guests interact with on a daily basis. The award is designed to increase the recipient's conservation community network and inspire empowerment by providing opportunities to gain further education through training or experiences.
The recipients are nominated by their directors and in most cases are unaware of their nomination until they are contacted by our admissions staff to announce the award.  The directors submit specific examples of exceptional conservation leadership being carried out by the individual as well as a description of what further training or skill building opportunity they would be interested in.  The 2016 Wildlife Warriors are from our partner projects all over the world saving sharks, painted dogs, gorillas, and giant armadillos. Here are this year's winners.
---
Valerie Akuredusenge: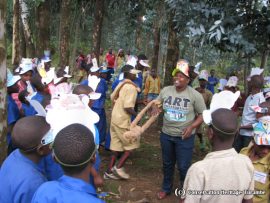 Valerie is saving gorillas and other wildlife in Rwanda, Africa.  She was born and raised in Rwanda and is a teacher in a village that is close to gorilla habitat.  She educates local people that live in areas that surround gorillas about the importance of the gorillas.  Locals don't normally see gorillas, even though they live very close to them.  She takes children into the forest to see gorillas for the first time.  This is what a few of the children have said after seeing gorillas for the first time:
"I did not know they have eyes!"
"I didn't know they feel happy like we do!"
"I didn't know they play like we do!"
Valerie wants to see how another conservation program educates children about wildlife, so the Zoo will set up an opportunity for her to travel to another wildlife conservation partner project we have in Africa.
---
Hilmar Salazar: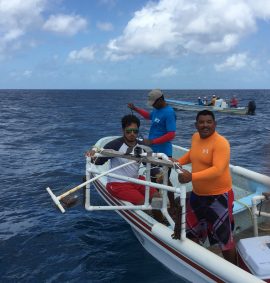 Hilmar is saving sharks and other marine wildlife with Mar Alliance in Belize.  He was born, and now raises his own family, in a small village in Belize.  He has relied on the ocean for his food and livelihood for his entire life and now works to save it by protecting large marine wildlife like sharks and rays.  He conducts research by setting up cameras underwater, tagging sharks, rays and sea turtles and empowers local people and children to protect the ocean.
Hilmar would like leadership and computer training and the Zoo will assist in making that wish a reality.
---
Enock Zulu: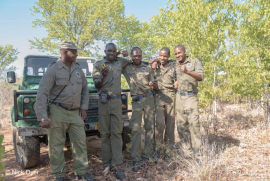 Zulu is saving Painted dogs and other wildlife in Zimbabwe, Africa.  He was born and grew up in Zimbabwe and is now the Anti-poaching team manager at Painted Dog Conservation in Zimbabwe.  He and his team have risked their lives to collect over 12 784 snares, rescued 11 animals from snares, arrested over 89 poachers.  He empowers and coordinates wildlife saving planning with many local community members and is very well respected and appreciated in the area.
Zulu would benefit from seeing another anti-poaching unit's operations in Africa.  The Zoo will fund him to travel to another project to experience different techniques and exchange ideas.
---
Gabriel Massocato: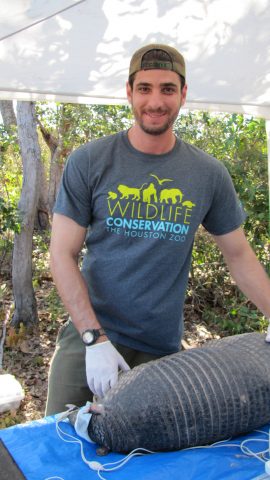 Gabriel is saving giant armadillos and other wildlife in Brazil.  He is a biologist from Brazil that works for our partner at the Giant Armadillo Project.  He conducts research, collaborates and trains many other Brazilians and educates children to protect giant armadillos in the wild.  Gabriel wants to be fluent in English to increase his impact with his conservation efforts and the Houston Zoo will make that happen through this award.
All of these Wildlife Warriors have deep rooted connections with their communities and are leading the way in saving animals from extinction.  The Houston Zoo is very proud of and grateful for all of these Wildlife Warriors and their projects.  Every time you visit the Houston Zoo a portion of your admission goes to protecting animals in the wild through projects like these.  The next time you visit be sure to ask the Zoo staff you buy your ticket from about these amazing Wildlife Warriors.