Zoo News Blog
No Stone Unturned – A Health Update on Traci the Giant Anteater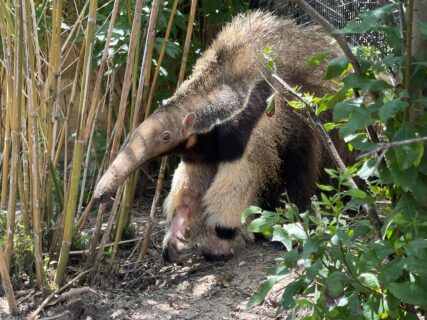 Traci, our 1.5-year-old giant anteater, is currently undergoing extensive medical treatments for a yet-to-be-determined ailment.
As part of the early years for any animal born at the Houston Zoo, our animal care and veterinary teams closely monitor an animal's medical health and welfare to ensure they are growing and reaching key developmental milestones. In June, our animal care experts noticed Traci's weight had plateaued, and he was no longer gaining weight as he should at his age. To help determine why, our veterinary team performed a diagnostic exam under general anesthesia to evaluate his health. Multiple tests were run, including radiographs, an ultrasound, and bloodwork. He was found to be anemic, meaning he has fewer red blood cells than normal, along with thickened stomach tissue, and was confirmed to be smaller in stature for his age. But, we still had questions.
"We are leaving no stone unturned when it comes to Traci's health and wellbeing," said Dr. Christine Molter, the Zoo's director of animal health. "He has an entire group of individuals helping to identify his diagnosis, including the Zoo's own team of zoo medicine specialists, veterinarians with the Association of Zoo and Aquarium's Species Survival Program, and consulting veterinary surgeons, internists, dermatologists, and radiologists from Gulf Coast Veterinary Specialists."
In July, Traci also began losing hair and further exams were performed. He received additional ultrasounds on his heart and abdomen and yet the diagnosis was still unclear. In early August, to further dive into Traci's condition, we proceeded with an abdominal exploratory surgery to evaluate his organs directly and take stomach biopsies.
During all this time, Traci received medications to help him stay comfortable and received special diet items, like hard boiled eggs and multivitamins. A team effort between Traci's regular keepers, the Zoo's night team and the animal nutrition team, provided Traci with his special meals multiple times a day, including late-night snacks so he would always have a fresh meal to eat. Despite this great effort, Traci had not significantly improved.
On August 26, Traci's father, Pablo, donated blood so that Traci could receive a blood transfusion with one whole unit of blood to help treat his anemia. Our veterinary team ran additional blood tests while Traci was under anesthesia, while also taking biopsies of his skin and colon. As Traci recovers from his procedure, he's being monitored daily by the hoofstock keepers and night teams and being given vitamins, nutritional supplements, and medication to be kept comfortable.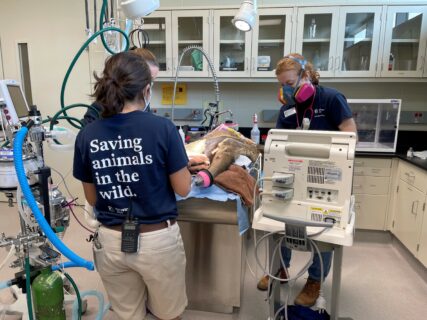 While we still do not have a definitive diagnosis of Traci's condition, we are hopeful that the medical exams and evaluations we are doing on Traci will help him as well as help other giant anteaters in the future. His keepers monitor his well-being daily and every step taken will be carefully evaluated to make sure that Traci's health is at the center of every part of his care.
Traci was born to mom, Olive, and dad, Pablo in March 2020. Both mom and dad have produced a healthy offspring in 2016. Both anteater babies were born from a breeding recommendation from The Association of Zoos and Aquariums (AZA) Species Survival Plan® (SSP).
When not undergoing treatment, Traci can be seen exploring the Savanna Grasslands inside of our South America's Pantanal exhibit.
The Zoo's anteaters serve as ambassadors for their wild counterparts, helping zoo guests understand this unique species. The Houston Zoo is proud to support the Giant Armadillo Conservation Program, a group working to protect giant armadillos and anteaters in the wild.