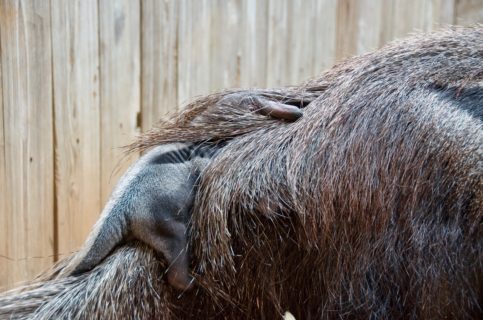 We are proud to announce the birth of a baby giant anteater. The yet-to-be-named baby was born on the evening of March 31 to mom, Olive. Giant anteaters spend the first few weeks of life clinging to their mothers and will typically hitch a ride on mom's back for almost 12 months.
Olive has been very attentive to the baby, carefully nursing and transporting the pup on her back. After allowing the pair plenty of time to bond, keepers and zoo veterinarians will determine if the baby is male or female.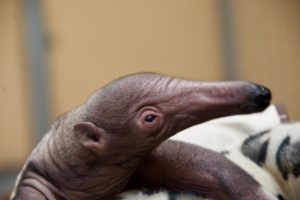 Giant anteaters face threats resulting from habitat loss and agricultural expansion. The Zoo's anteaters serve as ambassadors for their wild counterparts, helping zoo guests understand this unique species. The Houston Zoo is proud to support the Giant Armadillo Conservation Program, a group working to protect giant armadillos and anteaters in the wild.
Although the Zoo has temporarily closed its gates to help slow the spread of COVID-19, the team continues to work tirelessly to care for the animals. In order to help support the Houston Zoo during this unprecedented time, the Emergency Zoo Fund has been launched to help.