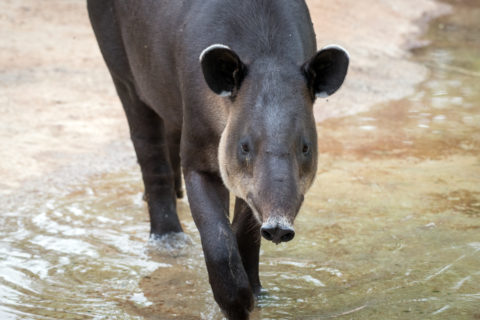 Happy World Tapir Day! We love our Baird's tapirs, Moli, Noah, and Frida and provide them with the highest level of care at the Houston Zoo. The Zoo is also dedicated to providing care for their wild tapir cousins in Central and South America.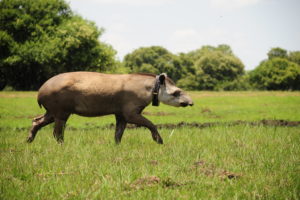 Tapirs live throughout Central and South America, and even halfway around the world in Malaysia, the Houston Zoo has been protecting wild tapirs in the country of Brazil since 2004. Our partners work diligently to protect lowland tapirs throughout Brazil, and specifically in the largest wetland in the world–the Pantanal.
To study and protect the lowland tapir, our partners have radio-collared and monitored 165 tapirs since 1996, making it the largest tapir study in the world! Radio collars are worn around the tapir's neck and provide important data to scientists who want to study them–like where they move, how long they spend traveling vs. active, how much space they need, and so on. Additionally, we've supported our tapir partners as they train other students and professionals from Brazil and around the world in ways to save wild tapirs. Since 2015, our partners have trained 19 professionals from 9 countries on tapir conservation methods. This helps to protect tapirs around the world!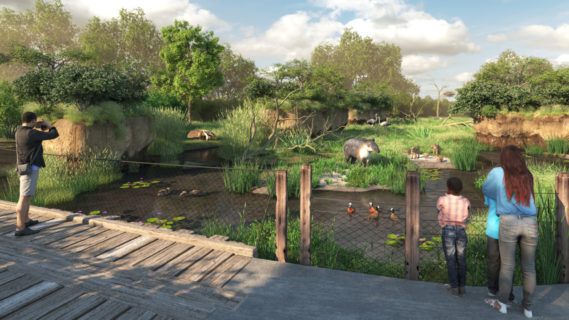 To celebrate the work the Zoo has done to help support tapir protection efforts, we're building an exhibit called South America's Pantanal. This exhibit will feature animals from the world's largest wetland, including the tapirs you saw on this morning's Facebook Live! We can't wait to share this new wildlife experience with you, and we can't achieve our mission of saving wildlife without you. Your support is more critical than ever. By supporting the Zoo's Emergency Zoo Fund, you are supporting the animals at the Zoo, in the wild, and all our animal care professionals who are working diligently every day to care for our animals while we are closed to the public.