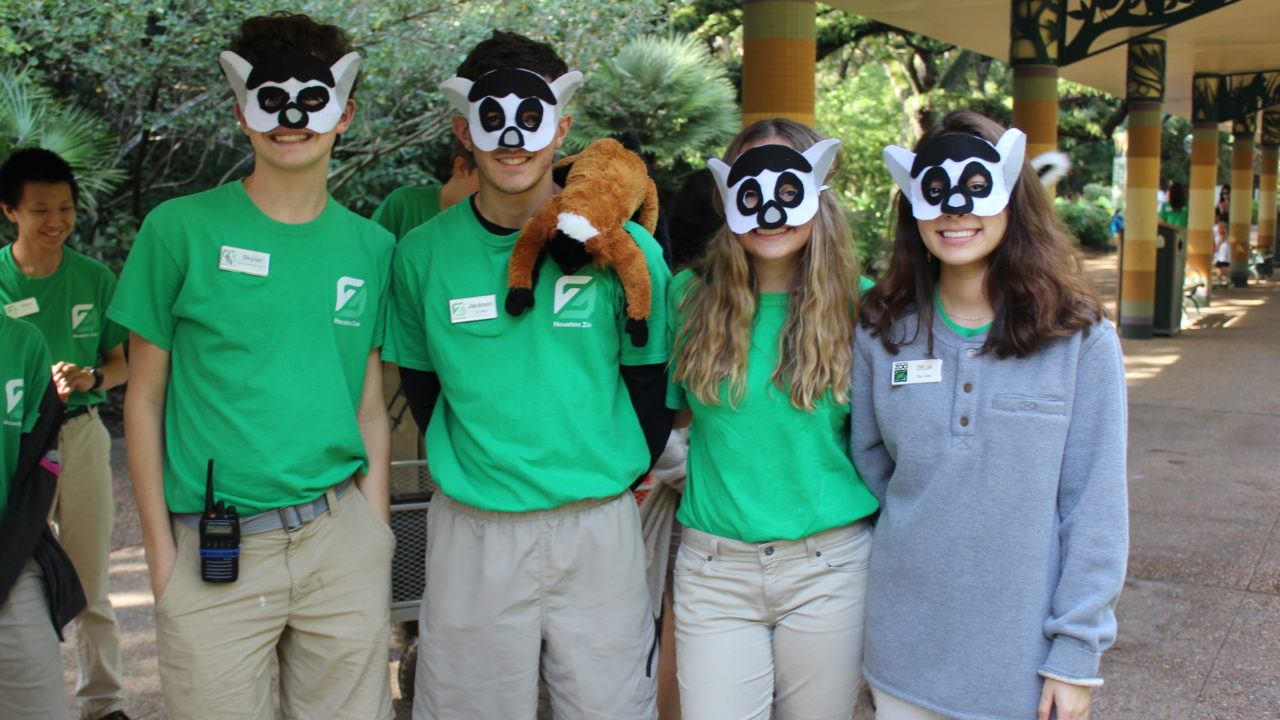 Required Opportunities
These posts typically occur on weekend or school holiday days, though participants must plan ahead to ensure their Zoo Crew commitments do not conflict with other extracurricular activities.
Fall (October– January)
Two shifts of Naturalist at Zoo Boo
One shift of Naturalist or Camp Mentor during holiday breaks
Spring (February- May)
Three shifts as Naturalist. This can include opportunities such as Naturalist station development, Spotlight on Species events, World Lemur Festival, etc.
Optional Opportunities
You can add to your Year-Round Zoo Crew experience by including any of the following optional activities:
Staff and Board Mentoring
Connecting with Conservation Partners
Spotlight on Species (SOS) events
World Lemur Festival
Naturalist station activity development
Special Zoo Events
New Camp Guide and New Zoo Crew Interviews
Wildlife-Saving Campaigns
And more! New opportunities are always being added.
Year-Round Zoo Crew Program Fees
Summer only: $200
Year-Round: additional $250
Applications
Once teens have been accepted into Zoo Crew they do not need to reapply for Year-Round Zoo Crew. Year-Round Zoo Crew registration will be available at the end of the summer Zoo Crew season.
Accommodations & Accessibility
We believe there should be no boundaries to the Zoo Crew experience. Teens of all abilities are welcome to join, and all participants receive thorough training and mentoring while in the program.
The Zoo Crew experience includes:
Exploring Zoo grounds, which has varying smells, light, noise, and temperature levels
Maneuvering on uneven terrain
Spending up to 2 hours at a time outdoors, sometimes in a stationary location
Engaging with Zoo guests in a friendly and respectful manner
Keeping track of time, following a schedule, and working with minimal supervision
Working collaboratively with fellow teens and Zoo staff and volunteers
Maintaining a positive attitude and conducting yourself in a professional manner while on Zoo grounds
Adhering to Zoo Crew policies and procedures
Our goal is to set up all teens and staff for success. To help us provide the best possible experience, please inform us of all special considerations prior to participation. This may include information on allergies, accessibility concerns, behavioral, psychological or emotional conditions as well as any other special needs. Please contact us at teenprograms@houstonzoo.org or 713-533-6567 to make an accommodation request. We are happy to work with households to make Zoo Crew accessible to teens with varying needs. We are, however, unable to provide one-on-one support or supplementary services.