Zoo News Blog
Winter Storm Survivor Finds a Home at the Houston Zoo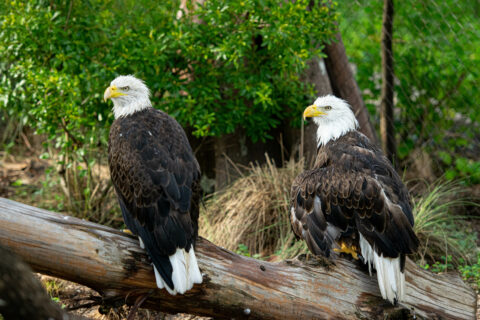 After surviving a critical wing injury that almost killed her during historic Winter Storm Uri, the Houston Zoo is happy to welcome another bald eagle. The national bird has been named Mae, a tribute to Mae Jemison, the first Black woman in space. Mae has joined the Kathrine G. McGovern Texas Wetlands' other bald eagle, Sally Ride, also named after a historic woman in space.
Mae was found by a game warden in Huxley, TX during February's ice storm that paralyzed most of the state. The bald eagle had an open wing fracture and was taken to Last Chance Forever, a wildlife rehabber for birds of prey, where they started her on antibiotics. It was several days before they were able to safely transport the bald eagle to Angelina Animal Hospital, in Lufkin, for further evaluation. When veterinarians examined her, they observed her wing was severely fractured and infected. After undergoing treatment, the eagle recovered from the infection, but the injury affected her ability to fly. As a result, the bald eagle was considered unreleaseable and she was brought to the Houston Zoo.
Mae arrived at the Zoo on Thursday, May 6, 2021. She spent some time behind the scenes in quarantine, which is standard protocol for all new animals who come to the Zoo, before being introduced to Sally. After the pair hit it off, they were moved to the Texas Wetlands bald eagle exhibit on June 15. Sally was found by a game warden in Sallisaw, OK with an injured wing. Complications from her injury led to her being unable to fly. She came to the Houston Zoo from the Tulsa Zoo.
Sally and Mae's survival stories are no surprise given there may not be a better wildlife comeback story than the one of the United States' national symbol. In the 1960s and 1970s, the numbers of wild bald eagles plummeted from the effects of pesticides. However, due to the banning of the pesticide and protection of the species through the Endangered Species Act, their numbers began to climb. In 2007, the avian icon was removed from the federal endangered species list. Now, Texans can see thriving wild populations of bald eagles throughout North America, including Texas.
By visiting the Houston Zoo, guests are contributing to wildlife-saving efforts ensuring that animals, like the United States' national symbol, the bald eagle, are protected. A portion of each Zoo admission and membership goes toward protecting animals in the wild.