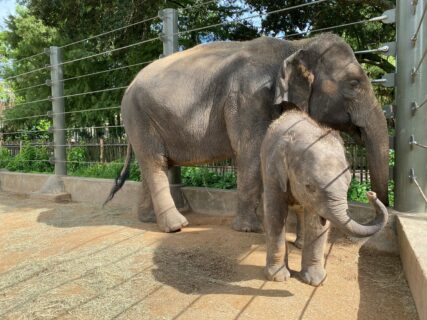 Legacy Community Health has a long history of caring for the greater Houston community, including the youngest members through their pediatric care. Over the next year, the Zoo is collaborating with Legacy to bring you updates on the care we give our young elephants during their first year.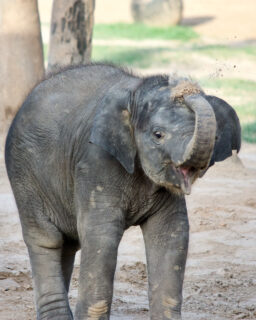 This year has been a busy time for our elephant team, with the arrival of not one, but two baby elephants, Winnie and Teddy. Throughout their first year, our elephant babies are celebrating a lot of firsts with the herd as our animal care team monitors them. Up first, we're spotlighting a milestone with our five-month-old girl elephant, Winnie. She recently spent her first night outside of the elephant barn with a few members of our herd, including mom, Tupelo, Tilly, and Methai. To determine if an elephant is ready to spend a night outdoors, our elephant team reviews the elephant's size, bond with mom and herd, and their confidence with the other elephants.
Rob Bernardy, elephant manager shares, "Winnie's first night out with the rest of the herd went great. As it got later into the evening, she seemed a little surprised and confused as to why she was still out in the yard, but that subsided pretty quick. We had the night keepers check on her throughout the evening and it sounded like she was moving all around the yard."
By the next morning, Winnie and Tupelo went into the barn for breakfast, and Winnie was exhausted and slept the entire morning.
As we continue sharing more updates about Winnie and Teddy's first year, one important area that we'll be highlighting is training. Once they have nursed and bonded with mom and the herd, an important milestone for our elephant team is training, which allows our keepers to build trust and bond with the elephants they care for while allowing our elephants to voluntarily participate in their own medical care.
At around 2-3 months of age, our elephant babies start sampling solid foods. Once they do this, we can start to train. They all learn differently and Winnie and Teddy are no exception. They couldn't be more different especially with training. One of our biggest training goals is to collect blood. Voluntary blood collection is a huge part in their care. Beside monitoring hormones for future breeding and blood chemistry for overall health we rely on blood for early EEHV detection which as we all know is a matter of life and death for young elephants. Blood collection is the most important and most challenging behavior to train.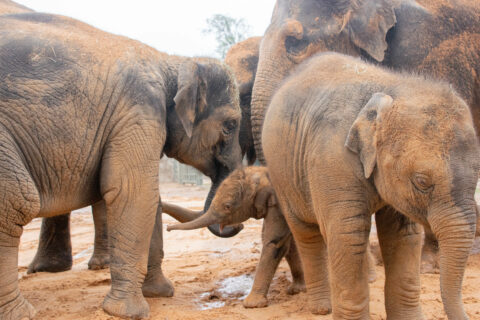 Follow along as we highlight important milestones through blog, social, and video features as these elephants grow while you learn about the highest quality of care we give the animals here at the Zoo.