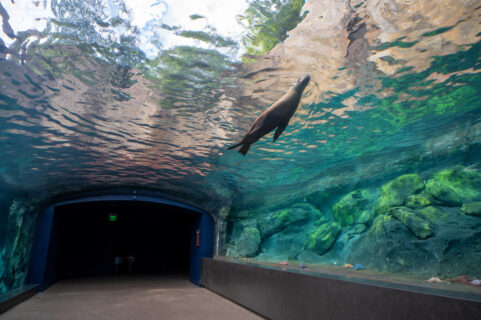 When you visit the delightful California sea lions at the Galápagos Islands exhibit in the Houston Zoo, you may notice some bite marks on two of our female sea lions, Calypso and Ariel. But don't worry! It's all part of their natural breeding season, and our dominant male, Jonah, is just being a bit more assertive with his affections. 
Breeding season takes place from May through August, with July being the peak month for sea lion romance. While this is a regular occurrence for them, this is the first time at Houston Zoo that Jonah has ever displayed this behavior. It could be because he's in a larger group of females now, causing his rut (a period of heightened hormonal activity) to be more intense.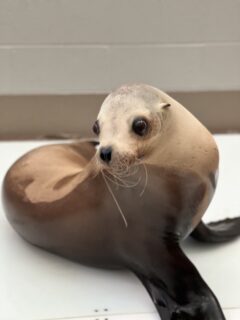 Fortunately, Ariel didn't seem to be bothered by the bites, but Calypso showed signs of discomfort. Much like we can tell when something's not right with a beloved dog or cat, the keepers noticed Calypso's unusual behaviors. She wouldn't lay on her belly and wouldn't let the other females lay next to her at night. To ensure her well-being, the keepers provided her access to the "VIP" pool suites in the back to enjoy some alone time, and so that the veterinarian team could determine the best care for her.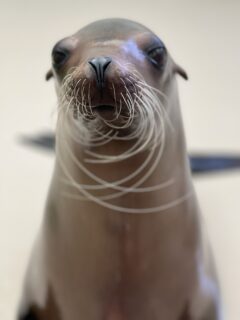 Calypso is an extremely intelligent sea lion, and she LOVES training sessions as they are very positive experiences for her. One of the medical trainings she participates in involves presenting her belly (cute, isn't it?). This easily allows the keepers to check on her bite wound each morning, take photos, and send updates to the veterinary team. Since sea lions live in saltwater, her wound is healing well! Alongside medication for discomfort, the veterinary team recently determined that Calypso had healed enough and was no longer showing signs of discomfort. She's back in the habitat for specific periods of time and will continue to be observed by her dedicated keepers. Yay, Calypso!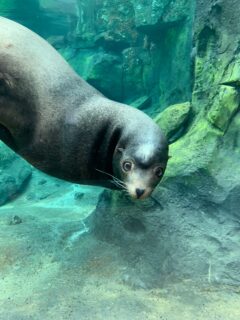 Due to Jonah's natural behavior during the breeding season, he will be separated from them for the entirety of rut. In September, when his hormone levels are lower, his keepers will slowly start to introduce him back to the new girls. This will occur in their habitat first, because of the size and all the rock formations that allow the girls to feel more protected. Then supervised time in the back bedrooms, working up to everyone sleeping alongside each other again.
You can see Calypso and the sea lion colony the next time you visit Galápagos Islands at Houston Zoo!