It's a well-known fact that the ocean makes up a very large part of the planet we live on. In fact, the ocean covers more than 70 percent of Earth's surface! Though it may seem a daunting task to keep ALL that ocean healthy, we can all take small actions that have a big impact in protecting the ocean and the animals living there.

First things first. Why should you want to protect the ocean? Our ocean actually make oxygen, and that's pretty neat (and also life-saving)! Phytoplankton living near the surface of the water absorb carbon dioxide during photosynthesis just like plants do on land. They cover a lot more surface area of the planet and, therefore, produce half of the Earth's oxygen supply. We can thank the ocean for helping us be able to breathe!
In addition to oxygen, the ocean also provides food! The diversity of life in the ocean makes for some interesting meals, but some species are being overfished and upsetting the delicate balance of life in the big blue. The good news is we can protect these overfished species! When you're eating seafood at a restaurant or purchasing it at the grocery store, make sure to choose ocean-friendly, sustainable seafood. Ocean-friendly seafood is seafood that has been caught or farmed in a way that protects animals like sharks and rays and ensures fish populations thrive over time.

Being ocean-friendly can be simple, too! Download the Monterey Bay Aquarium's Seafood Watch app to learn which seafood options are best choices or good alternatives. Use the app when making your ocean-friendly seafood purchases at grocery stores or ordering at restaurants.
The Houston Zoo is also ocean-friendly! All the animals at the zoo that eat seafood eat only sustainable seafood. In fact, the sea lions ate 23,850 pounds of ocean-friendly, sustainably-caught fish last year. The zoo also ensures seafood served at any on-site restaurant or special event is always sustainably-sourced.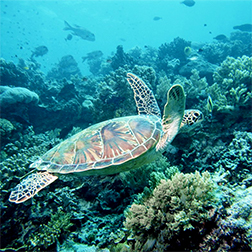 You can learn this and so much more at World Oceans Day Presented by Whole Foods Market this Saturday, June 10 from 9 a.m. to 3 p.m. Visit booths and enjoy activities as you learn how you can keep our oceans healthy and protect the animals living there, sign up for our annual beach clean-up, and enjoy themed Meet the Keeper Talks presented by Phillips 66. This event is included in your zoo admission and is free for Zoo Members. Click here to learn more about World Oceans Day Presented by Whole Foods Market and how to protect the ocean.
World Oceans Day Presented by Whole Foods Market is generously sponsored by Whole Foods Market and JUST Water.