Did you know that the average American throws away approximately 25% more trash during the holiday season than any other time of year? During the holidays, we are busy purchasing decorations, food, and gifts to share with our friends and family.  It feels good to share and holiday decorations help bring us cheer, but we must not forget to consider the environment when holiday shopping.  All that stuff we buy comes in boxes, packaging, and wrappers that eventually gets thrown away. This holiday season consider how you can increase your positive impact on the environment by following these tips and tricks.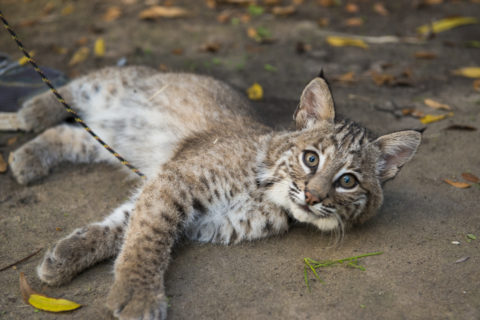 Decorate Responsibly 
Consider using fewer lights, or more LED lights, when decorating for the holidays. LED lights use less energy and last longer.
If you're getting rid of old or broken holiday lights, you can bring them to the Houston Zoo to recycle.
Plug your indoor and outdoor decorative lights into a timer to save electricity.
When buying trees for the holiday season, go to a local Christmas tree farm. Trees grown locally don't travel as far and are more likely to be grown sustainably.
When disposing of your tree at the end of the holiday season, keep your tree out of landfills by composting it. If you live in the City of Houston, you can place your tree curbside on TREE WASTE day in January and your tree will be brought to Living Earth for composting. You can also bring your tree to any of these drop-off locations in January.
Gifts that Save Wildlife
Buy experiences instead of items – Buying less stuff means more natural resources for wildlife. Experience ideas include: massages, cooking classes, nature excursions, concerts, photography lessons, or Broadway and movie tickets.
Buy locally-made items – Local goods mean your gift didn't have to travel very far, helping keep our air clean and safe for humans and wildlife. Visit a local art market to find unique, local gifts for your friends and family.
Buy products made from sustainable material – Using more sustainably-sourced material to create the products we use means more habitat for wildlife to enjoy. There are lots of brands out there that source their products from sustainable material (e.g. Rothys, Allbirds, Patagonia, Bureo). View this shopping guide to get some ideas on sustainable products.
Buy items marked as Fair Trade – Fair Trade products have long-term positive impacts on the livelihoods of producers, communities, and the planet. Products made under the Fair Trade standard help keep the planet healthy for many of the animals you can see at the Houston Zoo!
Buy gifts from the Houston Zoo – Give a wild gift this holiday season and purchase a gift from our holiday gift guide. You can gift your friends and family zoo memberships, art created by animals on exhibit, Adopt An Animal certificates, Animal Encounters, and much more! When you buy gifts from the Zoo, you are helping fund conservation efforts locally and around the world that help save animals in the wild!