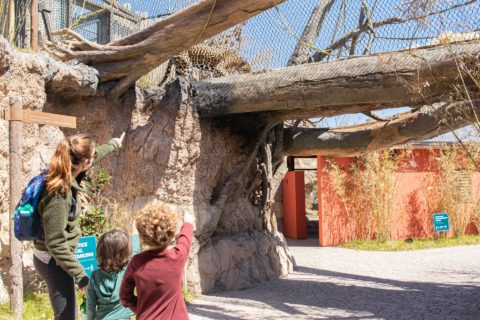 Ready for a Spring Break trip to the Zoo? We've got you covered with our pro-tips to help you plan ahead, from seeing TXU Energy presents Beasts to saving a screenshot of the Zoo map on your phone!
Extended hours
From March 13 to 21, the Zoo is staying open for an additional hour, from 9:00 a.m. to 6:00 p.m., with last entry at 5:00 p.m., for guests to have an extra hour of fun during Spring Break.
Member Mornings presented by PNC Bank
The Zoo is opening one hour earlier at 8:00 a.m. for special Member Mornings presented by PNC Bank to give you an extra hour to visit the Zoo before we open to the general public.
Reserve tickets ahead of time online
There's something fun for the entire family to do at the Zoo, including feeding our giraffe herd or taking a ride on the Wildlife Carousel! Spring Break dates are filling up quickly – we recommend making your ticket reservations online a few days in advance.
Save a screenshot of the Zoo map before your trip
Before exploring the Zoo, be sure to take a screenshot of our Zoo map – by going digital, you're helping save black bears in the wild. Once inside the Zoo, you'll able to see many of your favorite animals in outdoor wildlife habitats, including Asian elephants, southern white rhinos, Malayan tiger, western lowland gorillas, African lions, and more! View Map.
TXU Energy presents Prehistoric Beasts
Journey back in time at TXU Energy presents Prehistoric Beasts and then see their modern-day descendants like Berani the Malayan tiger and Florence the green anaconda.
Order your food online from Cypress Circle Café
Skip the line and order your food online! You can now order your food online for quick and easy pick-up at Cypress Circle Café. Place your order.
Make your parking plan
Spring Break is a busy time around the Zoo and Hermann Park. To help you avoid increased traffic around the Zoo, check out our recommended parking options. 
Visit the Zoo Store or shop online
Make sure to stop by our Zoo Store during your next Zoo visit! We've got you covered with your favorite Houston Zoo swag, reusable bags, toys for toddlers, & more. Or buy your favorite Zoo Store items online. Start shopping!

Mask up!
For the safety of our staff, guests, and animals, visitors 10 years and older are required to properly wear facial coverings and all guests are required to practice social distancing during their visit. Learn more about our health and safety guidelines.