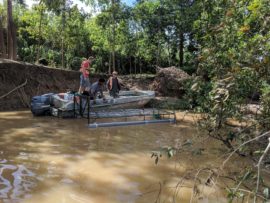 Monday morning: We started the morning with a group of researchers collecting data on crocodiles. Crocodiles here get BIG, like BIGGGGG. We loaded up two gigantic crocodile traps and headed out in the boats to set them. The boat ride in the daytime was beautiful, and much less stressful than last night. KPRC team interviewed the group setting the traps and we asked why it was important to collect this data. The researcher explained that she wants to know how the crocs are moving and start to assess how people affect their movement and behavior in the Kinabatangan.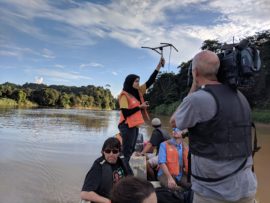 Monday Afternoon: In the afternoon, we met up with Farinha and set out to see if we could find an elephant herd she has been tracking. After getting the last GPS coordinates, we took a 45 minute boat ride down-river and then tried to get radio telemetry "beeps." We knew the elephants were inside the forest and not on the edge of the river, but since it was late in the day and the sun was going down, we decided not to leave the river. We headed back to the field centre and had dinner.
Monday Night: After dinner, we packed our expedition bags up and head out with python researcher, Rich, to look for pythons. Rich is studying important characteristics such as how pythons move through their habitat, if there are any influencing factors as to where pythons may be located, as well as parasites that the pythons may be carrying. During our dark ride down the river at night, Rich explains that to catch a python, he spots it with a headlamp, points the boat towards it, and then jumps off the boat to catch it….with his hands. Bare hands. Reading it might sound interesting but watching a person jump off a boat to grab a wild python is incredible. With a python in hand, Rich places it in a snake bag which he'll transfer to a special container when we get back. On Tuesday morning, he plans to measure and collect all the data he needs to continue his research.
The crocodile and python researchers work closely with our partners.  All of the conservation projects in the area benefit from one another's information and efforts to protect all of the wildlife in Borneo!
Houston Zoo's SMG (Social Media Guy) is on the trip of a lifetime to Borneo!
From Dec. 1–11, 2017 the Houston Zoo and Houston's KPRC Channel 2 are traveling to southeast Asia and the island of Borneo to document the work you are supporting to protect the counterparts of the wildlife that you see when you visit the Zoo. Houston Zoo conservation associates who have dedicated their careers to protecting elephants, orangutans, pangolins and a whole host of other amazing species on the world's third largest island will give us an in-depth look at what it means to save species from extinction.
We've created a special webpage to follow their exciting journey around the world, go behind the scenes, and learn more about how we can all save animals in the wild. Follow along with SMG!