We love our Members. Their incredible support allows us to make a difference to animals both locally and all over the world. This month, we're spotlighting a family of Zoo Members that deserve recognition. We're thrilled to introduce you to September's Featured Members: The Dalmolin  Family
---
We asked the Dalmolin's to share a few words about what being a Zoo Member means to them. Here's what they had to say.
"We have been members for the last 2 years. I have always loved the Houston Zoo and after our first daughter was born we knew would be frequent zoo visitors. We have 2 girls (3 and 1). It has been fun seeing their love for animals develop as we visit each exhibit. We can always count on the zoo to provide us with some great family memories. Each year we attend Zoo Lights and Zoo Boo. I love that Zoo Boo is including in the membership. We usually make it a big family event and invite grandparents and cousins. There are so many games and activities that are age appropriate for the kids. Of course my daughters favorite part is wearing her costume and going around to all the candy stations, shouting "Trick or Treat". The pumpkin patch with mini pumpkins that the kids can decorate is another favorite event.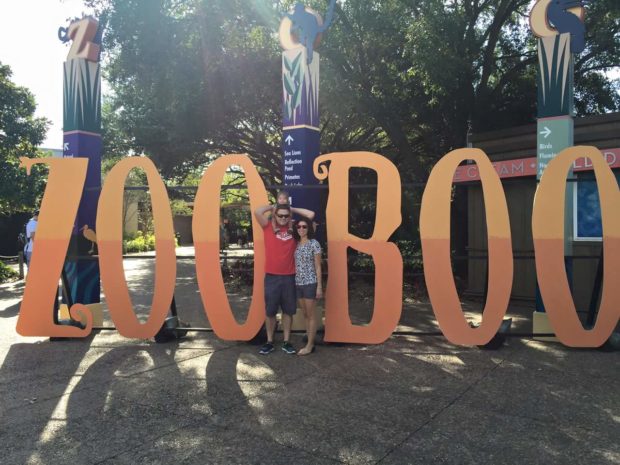 Zoo Lights can be a bit crowded but definitely worth seeing my girls face light up as they see all the light displays. Pair the lights with some hot chocolate and its another memorable family event we participate in each year to help kick off the holiday season. We had a chance to host daughters and my nieces' 2nd birthday party in the yellow pavilion last year. It was one of the easiest experiences for us as both families just had our second babies. We had an air conditioned room to take a break from the heat and the kids had a blast.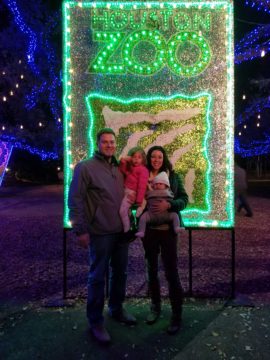 This summer we took advantage of our membership by adding our nanny as a cardholder. She was able to take the girls to the zoo during the day while my husband and I worked. They would head out in the morning and sit down with their packed lunch and eat before it got too hot. Last time they were there both girls had a hard time leaving the carousel and the oldest requested to ride the rhinos:) We love that the Houston Zoo allows you to bring coolers of food and drinks, makes for an economical trip. Our daughter has assigned us all with our favorite animals; she says her favorite animals are the lions, my husbands are the wolves, the youngest likes the elephants and I like the giraffes. We thank the Houston Zoo for providing our family with some great memories. We plan to keep enjoying our membership for years to come."
From all of us here at the Houston Zoo, we want to say thank you to the Dalmolin's and all of our Zoo Members. As a Houston Zoo Member, your support truly makes an impact on the growth of our Zoo and conservation efforts. THANKS!