Monday morning brought the welcome arrival of a second baby giraffe in two weeks for the Houston Zoo herd. The female Masai giraffe was born at 8:30 a.m. on Monday, April 24 to second-time mom, Asali in the McGovern Giraffe Barn at the African Forest. As with her first-born, Gigi, Asali has been a cautious mother and the keeper and veterinary teams are closely watching over the pair to ensure the calf is nursing well and the mother-calf bond is strong. After a few days behind-the-scenes with her mother, along with Tyra and two-week-old Zindzhi, the new calf will make her public debut.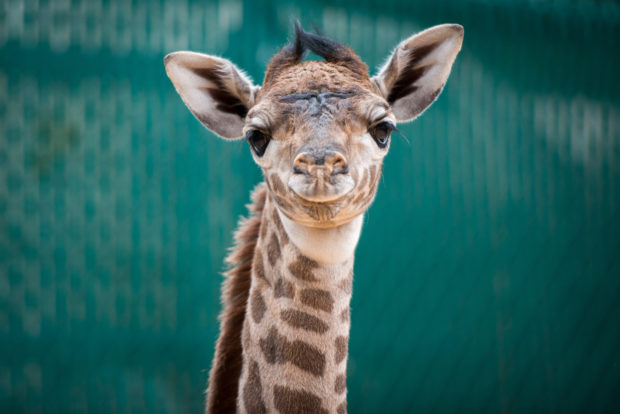 On average, giraffe pregnancies last from 14 to 15 months. A newborn Masai giraffe calf typically weighs between 125 and 150 pounds at birth and measures approximately six feet tall.  Giraffes are the tallest living terrestrial animals, with the average male standing at 17 feet tall and weighing 2,500 pounds. Females average more than 14 feet tall. The new calf weighs 148 pounds and is estimated to be 6 feet 6 inches tall.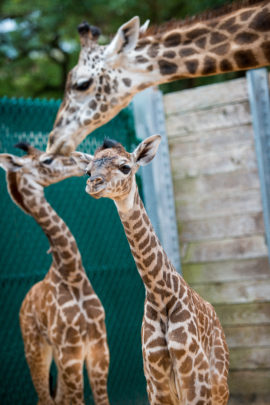 Over the last decade, the number of giraffes in the wild has dropped by 40%, with less than 80,000 giraffes remaining. The Houston Zoo is now home to seven Masai giraffes, one of the nine subspecies of giraffes.
Proceeds from every zoo admission ticket and membership help protect giraffes in the wild. The Houston Zoo provides funds and training for local people in Africa to protect wild giraffes from poaching and harm. These dedicated locals walk long distances in areas of Africa where giraffes live to arrest illegal hunters and collect harmful wire traps set for wildlife in the trees and bushes. For the past six years, the Houston Zoo has provided training and funds for Enock Zulu, an anti-poaching unit manager leading a local community anti-poaching unit in Hwange National Park in Zimbabwe. In his years of leadership, Zulu's teams have collected more than 12,784 wire traps, rescuing 14 animals from snares, and have arrested nearly 90 poachers.