Zoo News Blog
Recycle Your Holiday Lights at the Zoo to Save Wildlife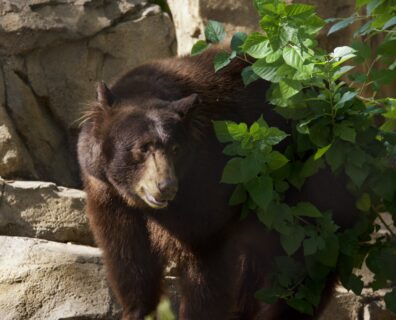 For the sixth straight year, the Houston Zoo is partnering with the community to save wildlife by recycling unwanted holiday string lights.
Whether burned out, broken, or ready to be upgraded to energy-saving LEDs, you can drop off any unwanted holiday lights in our collection bin outside of the Zoo's main entrance.
The collection bin is available now through the end of the TXU Energy presents Zoo Lights season, which ends on Jan. 8, 2023. Please note that we collect only holiday string lights – no flood lights, extension cords, light hooks, or other holiday decorations.
This type of waste would usually end up in local landfills, taking up space that could support wildlife and negatively impacting air quality, ground water, and soils. By reducing the amount of waste that is sent to landfills, you can partner with the Zoo to preserve undeveloped land and ensure healthier habitats for local animals, like the beautiful black bear.
Since the beginning of the program in 2016, the Zoo has recycled more than 26,400 pounds of holiday lights. That's the weight of roughly 80 adult black bears!
So instead of sending them to the landfill, please deposit your unwanted holiday string lights at the Houston Zoo, and enjoy your holidays knowing that you've helped save animals in the wild!