We love our Members. Their incredible support allows us to make a difference to animals both locally and all over the world. This month, we're spotlighting a  Zoo Member that deserves recognition. We're thrilled to introduce you to October's Featured Members: The Phillips Family
We asked the Phillips family to tell us a little about what being Zoo Members meant to them.

---
The Phillips family is comprised of parents Jennifer and William, as well as their adult daughter Catherine and teenage son Andrew who are both volunteers in addition to being members of the Houston Zoo.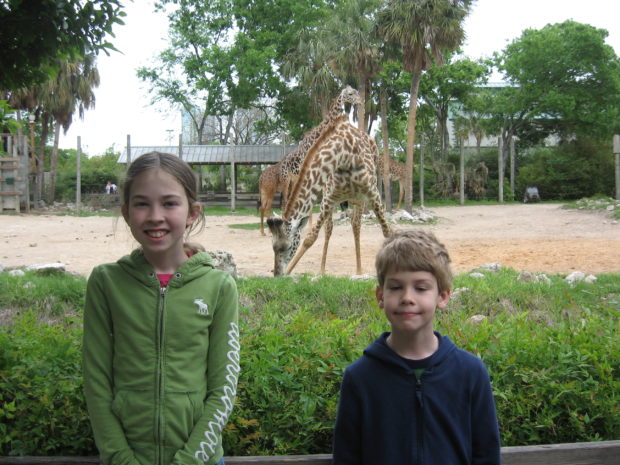 Jennifer and William: We have been members of the Houston Zoo for so long that I can't remember not being a member!  We have experienced the tremendous amount of growth and change the Zoo has gone through and eagerly anticipate the newest additions to Bears and Texas Wetlands. One of the reasons we continue to enjoy visiting year after year remains in the fact that nothing remains the same from visit to visit.  Each time we visit a different animal or feature catches our eye and attention!  On recent visits I have particularly enjoyed the Red River Hogs, the Mole Rats, and the growth of last summer's babies – Pepper and Joy.  We also appreciate that the Zoo has extended its outreach to aid endangered species in other countries and promote ways that we can help the environment just by changing a few habits. My car is now stocked with reusable shopping bags.  My children also shamed me into forgoing plastic straws for plastic free July!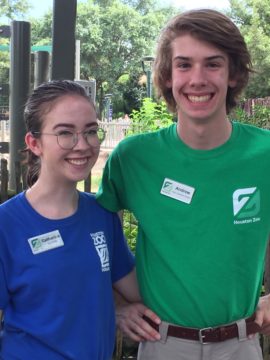 I love the flexibility our membership brings so that we can just drop in for a quick visit or for a special event. When my kids are volunteering, I frequently arrive an hour early and make it a point to visit a different area. The Zoo Cool Nights in particular have been a lot of fun the past few summers.  It is so pleasant and magical to be in the Zoo as it gets to be evening and many of the animals are more active.  Our original membership was a gift from my parents and it has definitely been the gift that keeps on giving!
Catherine: Being a member of the Houston Zoo from a very young age introduced me to many causes that I remain passionate about to this day. I loved volunteering at the Zoo as a teen, so I decided to continue my journey as an adult volunteer! I now attend college in San Antonio, but I always make it a point to come volunteer during school holidays and breaks. I have volunteered for about 8 years now and have been a member of the Zoo for a much longer period of time! What keeps me coming back to the Houston Zoo is its authenticity and demonstrated passion for both conservation and guest service. I feel so honored to be even a small part of an organization that does so much for our community and natural world. I'm sure many volunteers and members alike feel the same. If you have any interest in being an adult volunteer I highly recommend applying!
Andrew: I was so lucky to be a Zoo member throughout my childhood. Some of my favorite memories have involved the Houston Zoo, including being part of Zoo Crew. Being involved in this educational program for Teenagers 13 to 17 years old has taught me how to conserve and protect animals in a world dominated by single-use packaging, negative attitudes, and uninformed people! My volunteer engagement this summer has been as member of the Teen Leadership Council/Lead Naturalist. This position allowed me to mentor the Zoo Crew Explorers as they underwent two weeks of educating Zoo visitors about our six unique Take Action Initiatives (Plastic Recycling and Reduction, Sustainable Seafood, Paper Reduction and Recycling, Electronic Device Recycling and Reduction, Pollinator Awareness, Sustainable Palm Oil). I'm already looking forward to next summer's adventure!
From all of us here at the Houston Zoo, we want to say thank you to the Phillips and all of our Zoo Members. As a Houston Zoo Member, your support truly makes an impact on the growth of our Zoo and conservation efforts. THANKS!