New Girls in Town!
Three female African painted dogs have crossed the pond and joined our two bachelors to make a pack of five! Amara, Ghost, and Akilah, formerly from a zoo in the United Kingdom, were introduced to Blaze and Mikita late April.  Their keepers have been enjoying seeing the new pack and how the boys appear to be enjoying the company of the new ladies!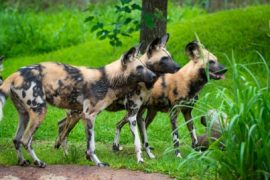 From left to right: Ghost, Akilah, and Amara
With a larger pack comes a different challenge for keepers.  Carnivore keepers at the Houston Zoo work "protected contact" with the painted dogs.  This means that we do not go into their habitat unless they have "shifted" or moved into their bedrooms and the door is secure.  We usually call our carnivores into their bedrooms every morning and serve them breakfast before going outside to clean.  The dogs have discovered that they can send in a few "scouts" to quickly grab some treats and bring them back into the habitat for the rest of the pack!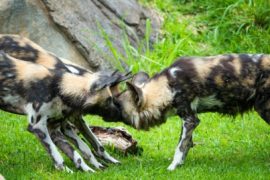 Ghost and Akilah greet Mikita
Each girl is starting to show her own personality and it is fun seeing the boys react to their antics.  We will be highlighting our new females on the zoo blog in the weeks to come in order to usher in our 4th annual Dog Days of Summer Celebration!  Please come join our pack Friday June 10 and Saturday June 11 from 9AM-2PM for keeper interactions, enrichment demonstrations, and free kids' crafts!