Zoo News Blog
New Zoo Friends are Ready for Back-to-School Season
The one with the the new animals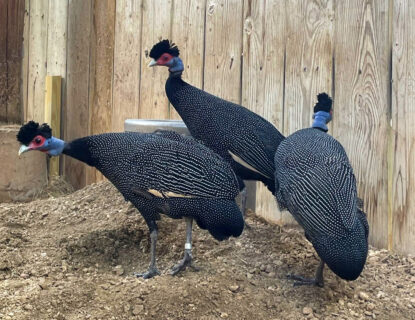 New season, new beginnings! As teachers and students gear up to see new faces this school year, animals at the Houston Zoo are also making new "friends." Three guineafowls, named Ross, Rachel, and Joey, made their public debut this month. The guineafowls join the new family of blue duikers, a pair of African spur thighed tortoises, and a pair of Stanley cranes in the exhibit. Guests can see all these animals in the large yard between the zebra and bongo exhibits.
Native to Africa guineafowls are one of the most unique gallinaceous or chicken-like birds. They are colorful with a distinctive, helmet-like crest on their heads. The boisterous birds are known to have unique personalities and are rather social, making them a good fit for the mixed-species exhibit. The guineafowls share the space with other African species including blue duikers.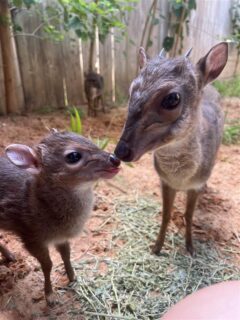 Tiffany, the two-month-old blue duiker, can be spotted doing the zoomies with mom Seana and dad Vlad nearby. Blue duikers are the smallest of the duiker species. Other friendly faces in the exhibit are the African spur thighed tortoises. This endangered species is the largest mainland tortoise and while they can go weeks without food and water, they can also drink up to 15% of their body weight at a time.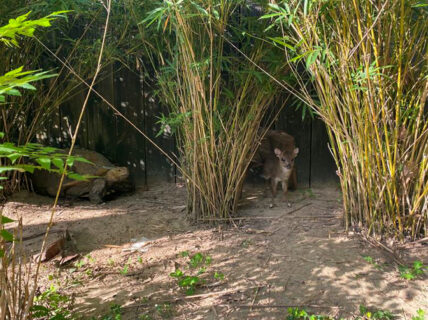 Guests will get a rare glimpse into how African species co-exist with other animals. By visiting the mixed-species exhibit, guests are helping save wild animals in Africa. A portion of each Zoo membership and admission goes toward supporting the Zoo's partners and local communities working to protect African wildlife including gorillas in Rwanda and lemurs in Madagascar.