Zoo News Blog
Meet the Zoo's Snake Saving Partner Murthy Kantimahanti on Monday, April 29th!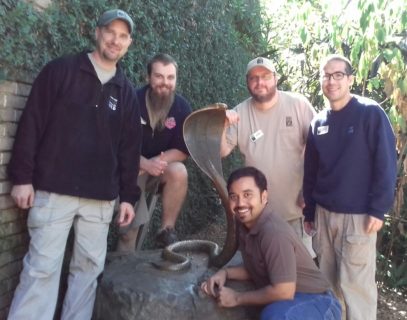 The Houston Zoo will be hosting the Houston Venom Conference this month – created in 2013 the conference serves to educate physicians, nurses, EMS professionals, and nature enthusiasts about the management of snakebites.  This is a lifesaving conference!  Murthy Kantimahanti has been the Houston Zoo's snake (and other wildlife) conservation partner in India for the past four years, and will be flying to Houston to attend, and be a keynote speaker, for this incredibly important conference.  His conservation project, the Eastern Ghats Wildlife Society (EGWS), has a strong focus on ensuring local people can coexist peacefully with wildlife, specifically snakes (king cobras, etc.), but works on conservation efforts for all wildlife (tigers, elephants, fishing cats, otters etc.) in the Eastern Ghats, India.  Murthy's snake bite research has revealed that there is a percentage of people in India dying from dry snake bites (meaning no venom is released), due to the fear people have of snakes. This fear is so strong that upon being bitten, the individual dies from a heart attack or other complications.  To that end, Murthy has focused his efforts on dispelling the fear around snakes and educating locals on the value of these animals and how they can live safely along-side them in India.
Guests will have the opportunity to meet Murthy on Monday, April 29th at 10:30am during a keeper chat at the Reptile House.
Houston Zoo and EGWS achievements in 2018:
Eastern Ghats Wildlife Society reached out to 21 different villages for human-snake conflict mitigation programs and capacity building initiatives.
18 amateur snake handlers were given professional training and snake rescue equipment for safe rescue of snakes from human habitations.
135 personnel from local forest department were trained in identification of local snake species and snakebite management.
More than 100,000 people were reached out as part of our ongoing education programs through various communication channels including the local press – print and electronic media channels.
We organized snake awareness programs in 21 different schools.
We have also collaborated with Andhra Pradesh Forest Department, Madras Crocodile Bank Trust, Agumbe Rainforest Research Station, Sakaerat Snake Conservation Team in Thailand and other like-minded organizations as knowledge partners and for technical support for all the on-going project activities.
One full-time biologist has been inducted in the project to help execute all the project-related activities.
Designed and distributed about 10,000 copies of the first-ever snake identification booklet in the Eastern Ghats in schools, villages, training programs.
Two large King Cobras have been rescued (which would have been killed otherwise) for the first time in the Eastern Ghats of North Andhra Pradesh by our team members trained as part of the project.