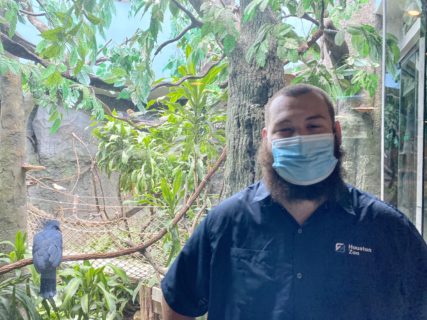 Meet Reid Allen, he's one of our Natural Encounters Zookeepers and has been at the Zoo for a little over two years! Not only does he work hard with his favorite Zoo animals, like the Pygmy Marmosets, but he's also a comic book fan and has a black belt in Taekwondo. Read more about how he began working at the Houston Zoo and what he does behind the scenes!
1. Where did you start your Zoo career?
I started my Zoo career as a volunteer, later intern, at my hometown zoo of Rolling Hills Zoo in Salina, KS. I went onto college in Wichita, KS and worked at the Sedgwick County Zoo in various areas that included Gorillas, Native Animals, Commissary, and Reptiles. My first full time position was as an African Ungulate Keeper at the Fresno Chaffee Zoo in Fresno, CA working with Rhinos, Giraffe, Antelope and Ostrich before I moved to Houston in my current position.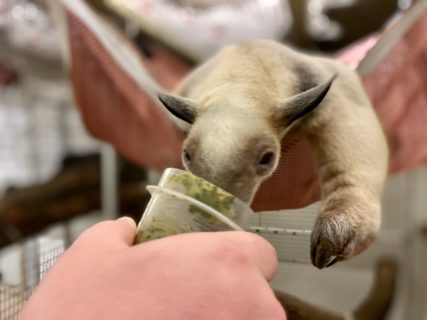 2. What is your favorite thing about working at the Houston Zoo?
I love our connection to conservation programs around the world. The Houston Zoo really embraces that and puts it into their message and vision for their zoo which is something that is wonderful. Whenever a guest comes to the Zoo, they see exactly what this Zoo does for animals both onsite and in locations these animals are from.
3. How did you know that you wanted to be a zookeeper?
I always loved watching The Lion King and Steve Irwin. I think that grew into a fascination of all animals, which made me want to have a connection with animals and improve their life. Once I started doing camps at my hometown zoo, I knew this was what I wanted for my life.
4. What does a typical workday look like for you?
A typical workday consists of medicating, feeding, cleaning, enriching, training, and observing animals. I always go into work with a plan of what I want to do today but not every day is the same, so I am always ready to drop that plan at a moments notice. You always must be flexible and ready for any challenge that comes up.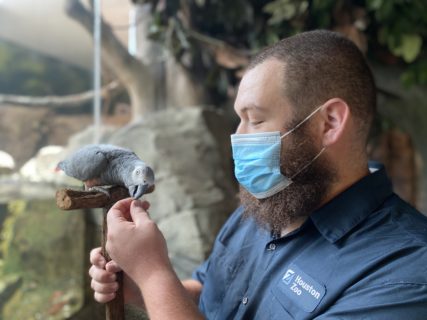 5. What is the most challenging part of being a zookeeper?
In Natural Encounters we have several species of animals that range from almost all Taxa. It is very challenging but rewarding to be able to adapt to each animals' strategy when it comes to their husbandry or behavior. I may not have a lot of experience with some of the animals I work with, but I try to learn more by research, observation and consulting with my more experience colleagues.
6. When you aren't at work, what are some of your hobbies? Do you have any pets?
I like to go see new movies, especially any new comic book movies. I have plenty of animals at home. 2 dogs, 2 cats, 5 rats, 2 parakeets, 3 snakes, 2 lizards, 7 fish, a tree frog, and a tarantula.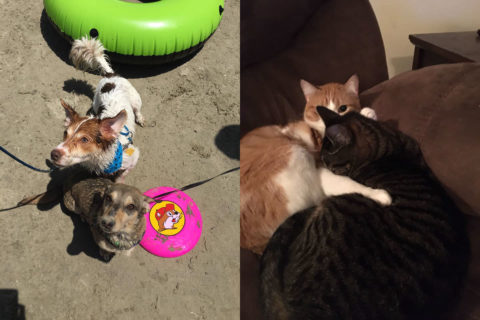 7. Do you have any animal-related tattoos and what is their significance?
I have a white rhino tattoo. The white rhino is the primary symbol of my hometown zoo, Rolling Hills Zoo. This is always to remind me of where I started. Plus, I love white rhinos.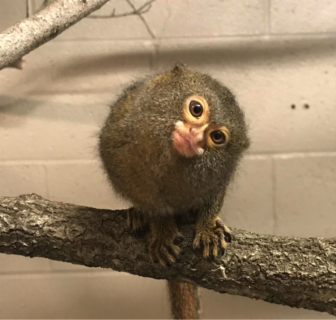 8. What is your favorite animal to work with?
I love the pygmy marmosets. They are one of the smallest primates in the world not to mention the most adorable. Beni, our male, was very shy when he arrived here. I was able to build a relationship with him that allowed him to be more comfortable around keepers. Now he is always ready for training or a treat from any of his keepers. It is a very proud moment when you have improved an animal's welfare in a big way. They also chomp their food with their mouth open which is a hilarious sight.
9. What is your secret talent or something most people don't know about you?
People may not know that I am a 2nd Degree Black Belt in Taekwondo. I was in Taekwondo for 2-3 years before becoming invested in the zoo world. I am a bit rusty on some things, but muscle memory will "kick" in. (Pun intended)