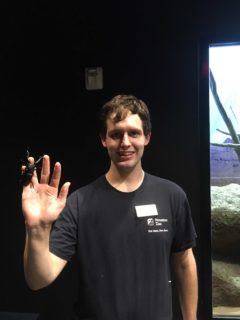 Meet Declan McDonah, he's one of our Bug House keepers and has been at the Zoo for almost a year. Not only does he work hard with his favorite Zoo insects, like the vinegaroon, but he's also is an amazing cook! Read more about how he began working at the Houston Zoo and what he does behind the scenes!
1. Where did you start your Zoo career?
I started here at the Houston Zoo. 
2. What is your favorite thing about working at the Houston Zoo?
Working with a wide range of animals and changing people's mind about bugs.
3. How did you know that you wanted to be a zookeeper?
I knew I wanted to work with animals but was not sure in what capacity. This job appeared and I interned at the Houston Zoo Bug House during the fall of 2018 and I fell in love with all the different critters here. So, I applied and here I am.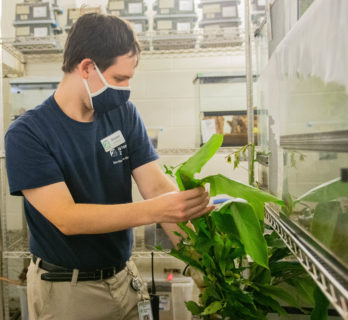 4. What does a typical workday look like for you?
Feeding everyone out in the morning, doing misting, and changing out browse. Afternoons are when we work on any projects or do exhibit maintenance or cleaning. Each day is unique, somethings do stay the same but most of the time we are always working on something new.
5. What is the most challenging part of being a zookeeper?
Being prepared to react to any situation at any time.  
6. When you aren't at work, what are some of your hobbies?
I enjoy cooking and watching B-rated science fiction horror movies. 
7. What is your favorite animal to work with?
One of my favorite carnivores is the vinegaroon. They are unique in their appearance, but he is very friendly. My favorite herbivore would be one of the Stag beetles because they are very cool to look at and each has their own personality.
8. What is your secret talent or something most people don't know about you?
I have recently taken up baking cakes and other sweets.