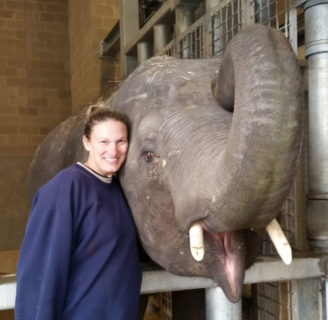 Meet Mandy Rinker, she's an Elephant Zookeeper III who has worked at the Zoo for 14 years — she started out working with small mammals in Natural Encounters before moving to the elephant team! Mandy always knew she wanted to be a zookeeper and one of her favorite things about working at the Houston Zoo is the collaboration with Baylor College of Medicine to help find a vaccine for Elephant Endotheliotropic Herpesvirus (EEHV). Read more about Mandy and what she does behind the scenes.
1. Where did you start your Zoo career?
I started my zoo career volunteering at the Niabi Zoo in Coal Valley, Illinois. After that I moved to California where I worked at a vet office for two years. I finally got hired on at The Living Desert in Palm Desert, California before moving to Houston. 

2. What is your favorite thing about working at the Houston Zoo?
I have two favorite things about working here. We have one of the best elephant programs in the country, and we work very hard to maintain that standard. My other favorite thing is our collaboration with Baylor College of Medicine to help find a vaccine for Elephant Endotheliotropic Herpesvirus (EEHV). This vaccine will help to save elephants here at the Houston Zoo, other elephants in captivity, and elephants in the wild.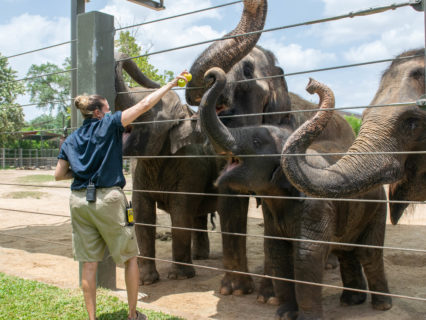 3. How did you know that you wanted to be a zookeeper?
I always knew I wanted to be a zookeeper. My first stuffed animal that I picked out at 6 months of age — according to my mom — was Curious George. My parents always knew I would work with animals and encouraged me to follow my dreams.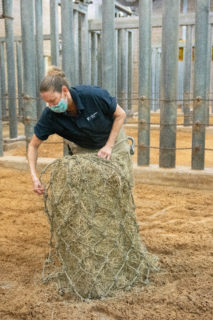 4. What does a typical workday look like for you?
My typical workday involves a lot of cleaning and training of elephants. We shift the elephants off exhibits in the morning so we can clean the yards and put food and enrichment out for them. Next, we bathe all 11 elephants. This is also when we do a lot of our training with them. After baths, they go on exhibit and get dirty right away (which is a good thing). Next we clean the barns and then give the elephants lunch around noon. After lunch we'll shift the elephants off exhibit to do one last yard clean for the day and then put their dinner out. When we are done cleaning, we give the elephants access to the barns overnight so they can come and go as they choose. 
5. What is the most challenging part of being a zookeeper?
The most challenging thing about zookeeping is that it involves a lot of physical activity. We do all the cleaning with rakes and shovels. And in the heat, it can get very exhausting, but you get used to it. The other difficult thing is that sometimes, you don't get to spend time with your family on holidays. The elephants don't know it's a holiday and they require daily care, so there are people here 7 days a week 365 days a year; rain, shine, hurricanes, or pandemic.  

7. When you aren't at work, what are some of your hobbies?
My main hobbies are knitting and doing puzzles.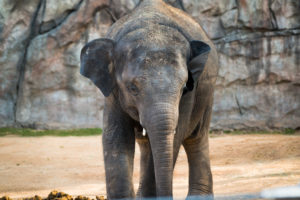 8. Do you have any animal-related tattoos and what is their significance?
I have my dog's foot prints tattooed on my foot. I also have a tattoo of our elephant, Duncan's, trunk print on my back, and a butterfly on my toe (I got this one after my mom got one). 

9. What is your favorite animal to work with?
The elephants and Max are my favorite animals to work with at the Zoo. 
9. What is your secret talent or something most people don't know about you?
People say I have long arms like a gibbon, and I have freakishly long legs.