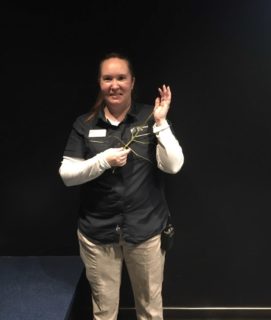 Meet Julie LaTurner, she's one of our Bug House Zookeepers and has been at the Zoo for nearly seven years — she was actually hired to help open the Bug House! One of her favorite invertebrates to work with are mantids. When she's not at work, you can find her at the Museum of Natural Science or watching a rocket launch — she's a big NASA fanatic! Read more about Julie and what she does behind the scenes.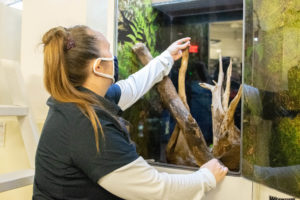 1. Where did you start your Zoo career?
I began working in a tropical butterfly house that was part of a larger science center in 2003 in Seattle. We also had naked mole-rats, fruit bats, a salt water tide pool exhibit, and non-butterfly invertebrates. It's where I learned about permits, USDA, and non-native invertebrate regulations.   

2. What is your favorite thing about working at the Houston Zoo?
It's nice to see so much support from the community, even in financially difficult times like we are all having now. People are stepping up to donate to the Zoo, to make sure that we are able to care for our animals and grounds in the way they deserve; it's humbling to see that.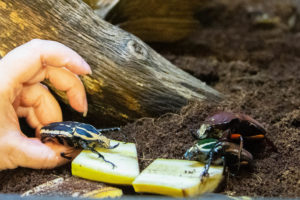 3. How did you know that you wanted to be a zookeeper?
I started working in animal care during the economic recession that followed the September 11 attacks. I noticed that not a lot of people were truly interested in working with terrestrial invertebrates full out. I enjoyed that niche and felt that maybe I could pull it off. I still don't know a lot of keepers that want to do just terrestrial invertebrates (outside those that already work them). I want people to love invertebrates. 

4. What does a typical workday look like for you?
We have invertebrates that are either herbivores or carnivores that must be fed out depending on the day. We do a lot of misting, as many of our species are tropical or sub-tropical. There are also our stick insects that feed on plant cuttings, so we prepare a lot of edible bouquets and check the old branches for baby insects. We check on pupating beetles and feeding beetle larva. We also have some aquatic insects that we take care of — much like caring for an aquarium.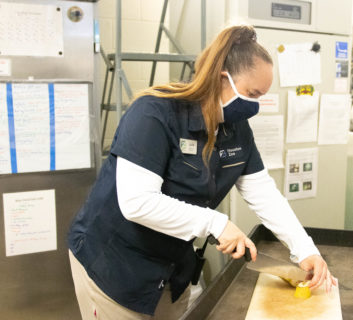 5. What is the most challenging part of being a zookeeper?
There is so little known about many invertebrate species — including ones that live in the U.S. We are still experimenting to see how best to raise many of them. Sometime keeping a colony going over many years is a big challenge. Sometimes the colony can collapse quickly, and sometimes they slowly decrease in numbers, and you have to bring in more to boost your colony numbers. It can sow small seeds of doubt in yourself sometimes.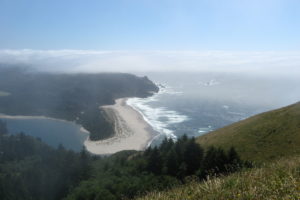 6. Have you traveled abroad to do conservation work as a part of working at the Zoo? 
Not abroad, but I worked on the Oregon silverspot butterfly project when I worked at Woodland Park Zoo in Seattle. We did field work as part of a release we did yearly. Their habitat is the bluffs overlooking the Pacific Ocean. Not a bad work site. 
7. When you aren't at work, what are some of your hobbies? Do you have any pets?
I have a membership at the Houston Museum of Natural Science. I like to attend their lectures. I'm also a NASA junkie, so I watch a lot of rocket launches, space walks, and I love visiting Johnson Space Center.   

8. What is your favorite animal to work with?
I love mantids… they engage with you differently than our other species. They are innately curious and will climb onto you, just to get a better sense of what you are and why you're there. And, you just know when you have their attention. This also applies to mantids in the "wild" of zoo grounds and beyond, by the way.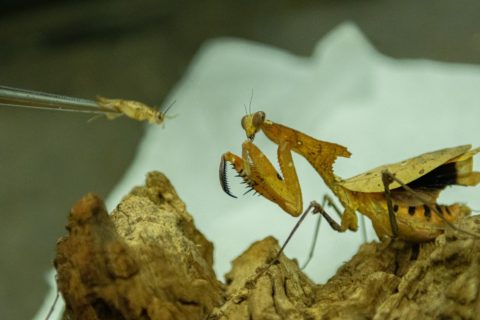 9. What is your secret talent or something most people don't know about you?
I think it's the NASA fanatic thing… I really want to see an Orion/Artemis rocket launch in person (think, I want to be shaken off a bench from the power type of thing). If there's a space walk or rocket launch going on while I'm at work, it's on the computer in the background. I also have hot wheels models of some of the Mars rovers and the Galileo probes sent to Jupiter at home.