Written by Memory Mays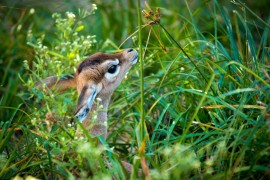 What is small, cute, has really long skinny legs, and very tiny hooves? Have you ever seen a newborn Gerenuk gazelle calf? Well, enjoy this picture of absolute cuteness.
Like any baby, Gerenuk calves are extremely adorable even though they may look a little unique with their skinny long legs and neck. If you've never seen one before, you might want to think about visiting The Houston Zoo soon. We are extremely happy to announce that our resident Gerenuk named Josie has just given birth to a healthy calf on January 9, 2016. The calf is a little female and has been named January by her caretakers.
Weighing in at 7.8 pounds, January was already walking when she was 45 minutes old and exploring her new home shortly after. January will join her older brother Julius and father Mr. Lee on exhibit soon and will have many adventures there. Next time you visit the Houston Zoo, make sure you stop by to see January with her family. If she isn't running around the yard having her adventures, she'll probably be curled up napping in the grass, so keep your eyes wide open.