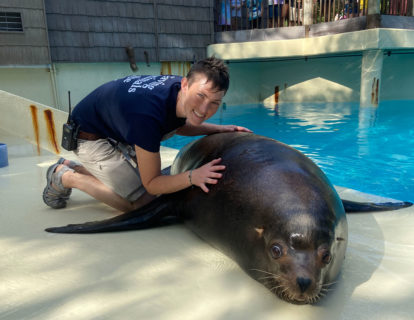 Meet Heather Crane, she's one of our Sea Lion Zookeepers and has been at the Zoo for almost nine years! Not only does Heather work hard with her favorite animals, but she also enjoys engaging with guests and educating them on sea lions and how you can help save them in the wild. Read more about how she began working at the Houston Zoo and what she does behind the scenes!
1. Where did you start your Zoo career?
I started my zoo career at the Oklahoma City Zoo and Botanical Gardens in the training department working with California sea lions, Pacific harbor seals, and parrots.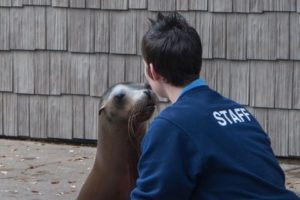 2. What is your favorite thing about working at the Houston Zoo?
The SEA LIONS!!!!
3. How did you know that you wanted to be a zookeeper?
Growing up, I always knew I wanted to be a sea lion veterinarian, but came to realize my work with them would be limited unless I specialized; I did not consider working as a zookeeper until after I graduated college and began volunteering so I could be around sea lions at the OKC Zoo.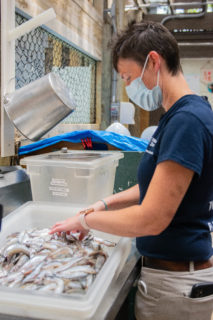 4. What does a typical workday look like for you?
As a keeper in the sea lion department, my tasks vary from caring directly for the animals, cleaning their living spaces, to creating and implementing projects that support the collection of data related to behavior so we can make informed welfare and care decisions. I also interact with all of you, who come to visit and learn about our animals. I take great pride in storytelling and sharing how visiting animals like our sea lions can inspire to elevate your visit from one of entertainment to empowerment to help save our natural world and its species. There's also usually a lot of being splashed and plenty of the less glorious tasks that come with cleaning up after fish eating mammals, too!😊
5. What is the most challenging part of being a zookeeper?
Being a zookeeper is challenging because we must be ready to adapt and change. The animals participate voluntarily in all training and sometimes when they do not feel like participating, we must become creative to ensure all of their needs are met. While this is also the most challenging aspect of my job, it's also my favorite because it pushes me to creative problem solving and I'm ALWAYS up for a good challenge! I delight in finding novel applications of well-established ideas.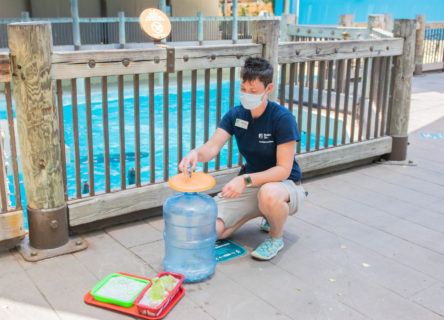 6. Have you traveled abroad to do conservation work as a part of working at the Zoo? 
Yes, I participated in a sea otter behavioral ecology project in graduate school that the Houston Zoo supported. 
7. When you aren't at work, what are some of your hobbies? Do you have any pets?
I am an animal trainer outside of work, too, where I work with cats, dogs, and exotics and am very involved in the animal rescue community! I also volunteer with the Texas Marine Mammal Stranding Network in Galveston. I enjoy playing music and being involved in the arts and humanities and an active participant in community activities. I have dogs, parrots, and a mini pig as personal pets.

8. What is your favorite animal to work with?
Sea Lions, ALWAYS!
9. What is your secret talent or something most people don't know about you?
If I tell… it's not a secret! Most people do not know that I play a lot of different musical instruments. I play viola and drums the best but am also self-taught to play many other instruments at a very basic level as well.