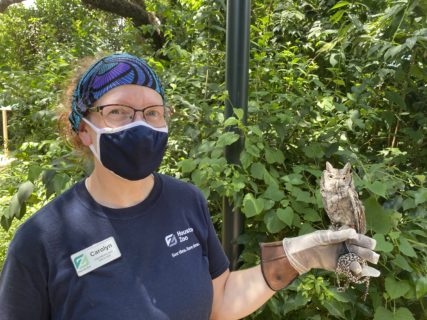 Meet Carolyn Zewe, she's one of our Children's Zoo keepers and has been at the Zoo for almost 18 years! Not only does she get to work with some amazing animals, but she's also a big hiker and loves to knit. Read more about how her background and role as keeper in the Children's Zoo! 
1. Where did you start your Zoo career?
At the Houston Zoo! I previously had experience working with animals in a small animal veterinary practice. 
2. What is your favorite thing about working at the Houston Zoo?
All the different animals I have the pleasure of working with. I also work with one of the best teams I have ever been a part of.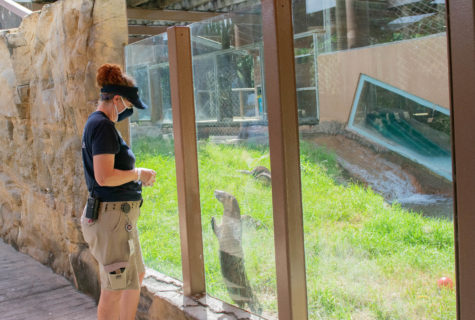 3. How did you know that you wanted to be a zookeeper?
I have always enjoyed working with animals, but I did not consider becoming a zookeeper at first. I wanted to do something more to help animals in the wild, so I started volunteering at the zoo. It was through volunteering that I discovered my passion for becoming a zookeeper. 
4. What does a typical workday look like for you?
The mornings are the busiest with preparing diets and enrichment, feeding, cleaning exhibits and holding areas. The afternoons allow a little more time to focus on training.
5. What is the most challenging part of being a zookeeper?
Saying goodbye to animals I have spent years with and cared for on an almost daily basis. The other most challenging aspect of being a keeper is being flexible and problem solving. 
6. When you aren't at work, what are some of your hobbies? Do you have any pets?
I have one dog named Bucee. My hobbies include hiking and camping. My favorite places to do this are out in West Texas, New Mexico or anywhere near mountains. I also like to knit and read.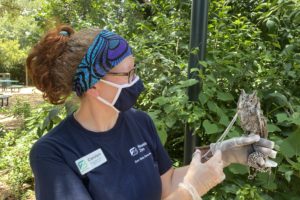 7. What is your favorite animal to work with?
I don't think I can. I love working in the Children's Zoo because of the wide variety of animals. My favorites to work with are the North American River Otters, Belle and Jack; Liberty, our Bald Eagle; Roxie, our Ambassador Great Horned Owl; and Pigwidgeon, our Ambassador Eastern Screech Owl. 
8. What is your secret talent or something most people don't know about you?
I think that would probably be knitting, I'm working on my first sweater. I've knit several hats and a pair of socks so far.