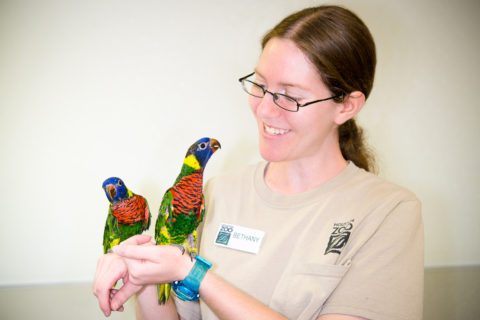 Meet Bethany Shick, she's one of our Bird Zookeepers and has been at the Zoo for the past eight years. She works hard with her favorite zoo animals, like the Lady Ross turacos, but also enjoys making sugary sweet treats! Read more about how she began her journey at the Houston Zoo and what she does behind the scenes!
1. Where did you start your Zoo career?
I volunteered and did internships here at the Houston Zoo for about a year before being hired and worked as an intern at a big cat rescue in Tyler, TX before that.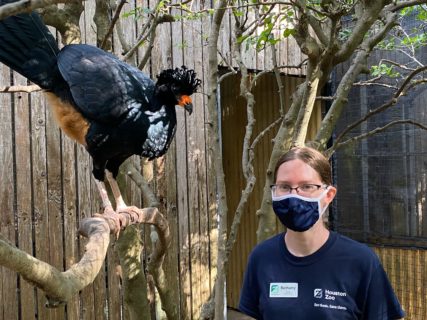 2. What is your favorite thing about working at the Houston Zoo?
I love working with the animals, of course. The Bird Department especially has a large role in raising and sustaining critically endangered species, many of which are extinct in the wild. Knowing that I am personally contributing to the preservation of a species and seeing a real example of how I am saving species in the wild is the most rewarding part of being a zookeeper. 
3. How did you know that you wanted to be a zookeeper?
Like a lot of zookeepers, I've always wanted to spend time and work with animals. When I realized that spending all day with animals at a zoo was a real job that existed, I knew that was the right place for me. 
4. What does a typical workday look like for you?
I work in a specific section in Birds usually with 1 or 2 coworkers. The first thing we do in the morning is check on all of the birds to make sure they are in good health, feed them, and then afterwards spend 2-3 hours cleaning in with them. In the afternoon, there is usually time for projects, like exhibit maintenance, and also helping in any other areas of Birds that are needed.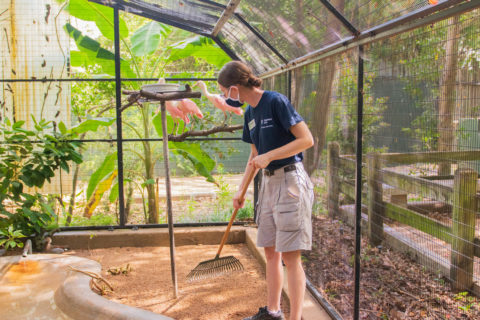 5. What is the most challenging part of being a zookeeper?
Because of the time and devotion that goes into caring for the birds, it's only natural to become personally invested in each of them and it's easy to carry that with you when you leave the zoo. If they eventually are transferred to another zoo or anything else, it can be like losing a member of the family.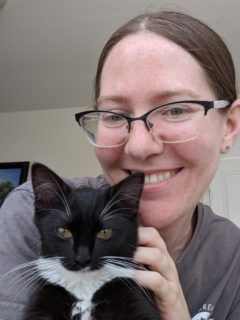 6. Do you have any pets?
I have two cats, Pickles and Piper. I adopted Piper just recently. She's still a kitten, a bundle of energy with a passion for destruction, so chasing after her has been my hobby lately. I wouldn't have it any other way. 
7. What is your favorite animal to work with?
I have a lot of favorites and it seems to change based on whoever I'm working with at the time. Each animal has its own unique personality that, once I get to know them all, I can't decide who I love best. We have two beautiful Lady Ross turacos that are always hungry, our rosette spoonbills are hilarious, honking bundles of pink, one of our spunky wattled curassows knows she's the queen of creation, and it didn't take long for our bald eagle, Sally, to find a permanent place in my heart.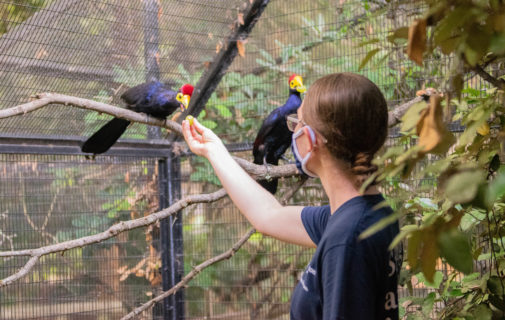 8. What is your secret talent or something most people don't know about you?
I'm not sure if this is a secret, but I have an incredible sweet tooth and I love to make sugary treats that I'll sometimes bring to work. I suppose the secret part is that everyone gives me credit for making them for my coworkers, when really I'm making them because I wanted them myself first. Don't tell!