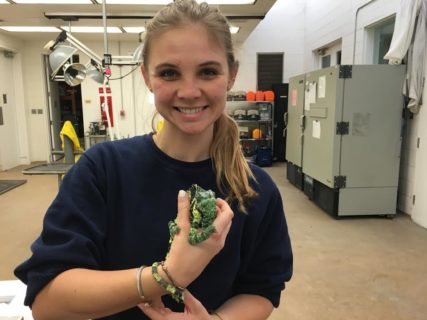 Meet Amy Chapman, she's one of our Vet Clinic keepers and has been at the Zoo for 5 years. Not only does she get to work with some amazing animals, but she also has her own personal "zoo" at home. Read more about how her background and role as keeper in the Vet Clinic.
1. Where did you start your Zoo career?
My entire Zoo career has been with the Houston Zoo! I graduated from Boston University in 2014 and, while looking for jobs, I began volunteering at the Zoo as a Keeper Aide. I volunteered in 4 different animal care sections during the week and I worked as a high school tutor in the evenings. I fell in love with the atmosphere, the staff, and of course the animals, so I began applying for zookeeper positions. I volunteered for about a year to gain the necessary experience before I was first hired as a temporary keeper. Within a couple months, I became a full-time keeper!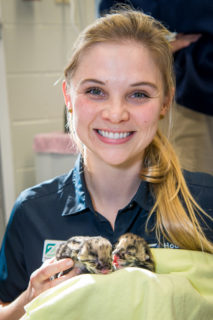 2. What is your favorite thing about working at the Houston Zoo?
My favorite thing about working at the Zoo is having the opportunity to work with such a huge variety of species! As a vet clinic keeper, we not only provide care and TLC to hospitalized patients, but we also care for quarantine animals. Whenever new animals come to the zoo, whether for our new exhibits such as the Pantanal or for a recommended breeding pair, they typically spend time with my team behind the scenes to ensure that they are healthy and parasite free before joining the zoo collection! It's extremely rewarding to be able to welcome these new animals to Houston and acclimate them to life here before they are released to their new sections and are ready to go out and be seen on exhibit!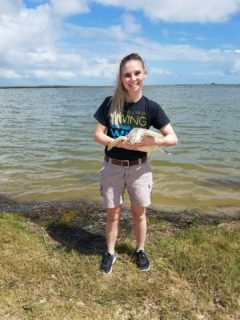 3. How did you know that you wanted to be a zookeeper?
Some people know from childhood that they want to be a zookeeper, but my desire to become a zookeeper surprised me! I always loved animals and wanted to be a part of the global movement to save wildlife, but I was not sure how I could make a career from that passion. I only knew I wanted to be a zookeeper and understood how much conservation work I could participate in when I began volunteering and now can't imagine doing anything else. My job allows me to care for endangered species such as the Houston Toad and Micronesian kingfisher while also participating in local conservation such as Surfside jetty cleanups and Plastic Free July so win-win!
4. What does a typical workday look like for you?
A typical workday starts at 7AM and the first item on the agenda is waking everyone up! We go through all of our rooms and buildings, turn on lights and check to see how all of the animals in our care did overnight. Checking on everyone first thing in the morning is one of my favorite parts of the day! As vet clinic keepers, we are a part of the larger vet department including our zoo veterinarians, veterinary technicians and administration staff. We all come together at 7:30AM for our morning rounds meeting to discuss the plan for the day and to report on how our hospitalized animals are doing. After rounds, my team gets started medicating, feedings, cleaning, enriching, training and monitoring all of the animals in our care. As hospital staff, we are always ready for a new patient to come to us at any moment. We have to be on our toes and ready for any emergencies!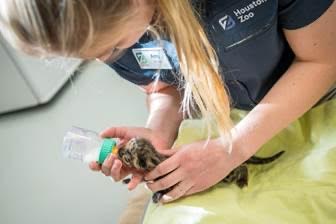 5. What is the most challenging part of being a zookeeper?
The most challenging part of being a zookeeper in the vet clinic is that the animals I work with only stay with me temporarily! Many zookeepers have the opportunity to create long term relationships with animals in their care. As a clinic keeper, the animals in our care usually only stay for about 30 days before being released from quarantine or the hospital. Our goal is to provide the highest level of care and welfare and to release them back to their primary care sections! It is a challenge for me because I become very attached to all of the animals and miss them when they leave my care! Despite this challenge, it is beyond rewarding to be able to release hospitalized patients back to their loving primary caretakers and to be able to introduce new collection animals to their new primary caretakers.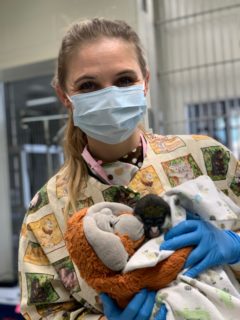 6. When you aren't at work, what are some of your hobbies? Do you have any pets?
I love to travel, explore local wild spaces, tend to my produce and pollinator garden and spend time with my family and friends. My family teases me about working at the zoo, but also having a zoo at home! At the moment, I have two rescue dogs, a rescue ball python, a rescue tortoise and a frog at home.
7. What is your favorite animal to work with?
I have been so lucky to work with so many animals and species it is impossible to choose just one! Tortoises and birds definitely have a special place in my heart. As a hospital keeper, I have been a part of many hand raising teams, so of course those babies are always special too! The quirkier the personality the better! The best thing about my position is I don't have to choose one favorite because whenever I go out into the zoo, it is like a family reunion because so many animals have at one point spent time behind the scenes with me.
8. What is your secret talent or something most people don't know about you?
Most people don't know I was born in Belgium and I only became an American citizen 2 years ago! I now have dual citizenship with the UK. I also love watching The Office and listening to big band music while I bake!