We love our Members. Their incredible support allows us to make a difference to animals both locally and all over the world. This month, we're spotlighting a family of Zoo Members that deserve recognition. We're thrilled to introduce you to May's Featured Members: the Adams family.
We asked the Adams family to tell us a little about their favorite Zoo experiences and what being Zoo Members means to them.
---
We love the Houston Zoo!  We moved back to the Houston area in 2015 and instantly became members.  We signed up for the membership so that we would have plenty of friends and family join us at the zoo.  Since becoming members, we have had friends visit from North Carolina, Colorado, Louisiana, and California.  All have said the Houston Zoo is one of the best zoo's they've ever been to!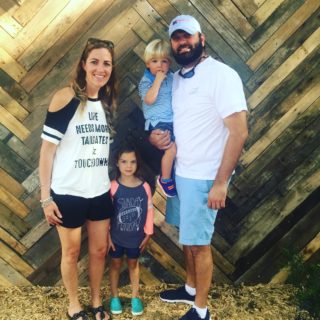 The kids love being outdoors and watching the animals. Their favorite stop when we first arrive at the zoo is to see the Sea Lions, before heading to the Elephant exhibit to watch bath time. We love watching the elephants do tricks during bath time and baby Tilly run around. Its been fun watching Joy grow up and now my kids will have the opportunity to watch Baby Tilly grow up.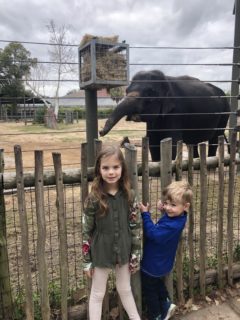 We always stop to have lunch with the giraffes! I love watching the kids faces and expressions as they are feeding the giraffes. After we get done feeding the giraffes, we stop at the café right there for lunch. Their French fries are delicious!
No trip to the zoo is complete without a ride on the carousel and a stop of the Children's Zoo. The Texans stage does a great job getting the kids actively involved while educating them on the animal of the day. The Swap Shop is a great learning experience as well. My daughter loves to look at the geodes while my son loves to explore the animal bones.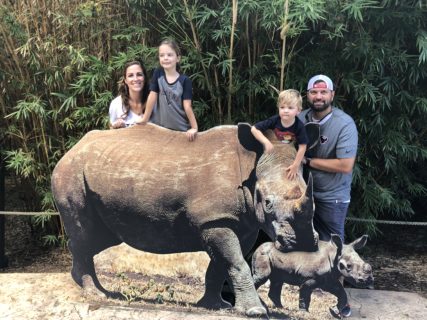 Whether it's a cool fall day or a hot humid morning, there is always something to see and do at the zoo!  In the summer, the kids like to cool off at the misting stations and splash pad. Zoo Boo and Zoo Lights are some of the kids favorite events to attend during the holiday season. We've even got stuck in the rain at the zoo and it did not put a damper on our day. Between the aquarium, reptile encounter, and natural encounters there are plenty of indoor stops to escape the weather.
The zoo is a great learning experience for both kids and adults. Each month we look forward to the Zoo Newsletter to learn about what's going on and the arrival of any new animals. We can't wait for the new Texas Wetlands Exhibit to open. We'll be Houston Zoo members for years to come!