Zoo News Blog
Local High School Student is Saving Wildlife, One Bottle of Water at a Time
Carolyn Jess is a high school student who helped us out as a guest blogger from 2013-2016 with a focus on native wildlife. Carolyn reached out to the Houston Zoo last year for advice on installing a water bottle refill station. Read on for her successes.
My high school is BIG. We are a 6A school with around 2,400 students and 250 teachers. We excel at many things – we have tons of school pride, great love for one another, and a strong desire to help others every chance we get…but the one thing we are really good at? Recycling. Most of our classrooms have gone paperless, but recycling bins are abundant for those that still need paper. In fact, there are recycling bins everywhere you look – we all know where the big green recycling bins are should we need them, and everyone recycles their plastic water bottles in a specially made bin. We know how to recycle.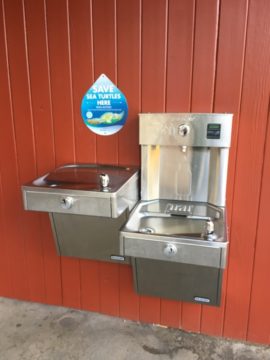 But recently, I started thinking, are we too good at it? Is that even possible? It seems like our recycling bins are always filled to the brim, and in some cases overflowing. Plastic bottles will spill out, and despite the dedication of the recycling team and custodians, excess bottles end up in the trash. Plenty of students bring their own refillable bottle, but the fountains on campus are not built to easily refill a bottle. Students stand awkwardly at the fountain trying to hold the bottle at the right angle, and most can only get the bottle filled halfway before they have to rush off in order to beat the tardy bell. As a result, many of the students who try to do the right thing end up retiring their reusable bottles and resort to using the throw away kind since they are a faster and easier option. At the rate we are going, with 2,400 students using 2 bottles a day, 5 days a week we are looking at 24,000 plastic bottles discarded EVERY WEEK.
Something needed to be done to fix our plastic problem, so I started researching refillable water bottle stations. I wasn't sure about costs, installation, or maintenance, but after looking at various makes, models, and prices, I found a great online resource called becausewater.com. After reading their website, I made contact with them and our question and answer session began. They offered so much assistance when it came to choosing the right model for my campus and figuring out the associated costs. Once I knew my options, I typed up a proposal and timeline for my school principle. I scheduled a meeting with her and explained what exactly it was that I wanted to do and how I would go about getting a unit installed.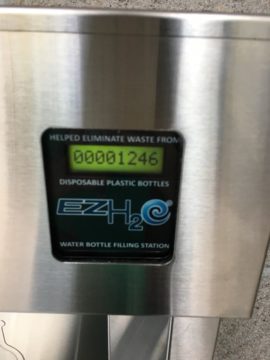 It took a little while, but I finally got the go ahead to start fundraising to pay for the unit! With the help of my student council, we will have 3 fundraisers during the upcoming school year and use some of our homecoming dance proceeds to pay for the unit. The principal has decided to match our efforts – If we can raise the funds to buy and install one station on our main campus, she will get one and have it installed on our freshman campus. We will get the district's maintenance staff to install the unit to cut down on costs, and I will be on hand to help with the instillation process as much as I am allowed. Once the unit is installed, I know our students and staff will be excited to start filling up their bottles with ease, plus it will be fun for them to see the counter at the top of the fountain showing how they are minimizing plastic waste in our environment! I am a senior this year and want to leave my school knowing that I was able to take action to help our environment and our local wildlife.
My campus is big, and it has a big heart. I hope that there is a student next year, that continues with this plan and installs another unit, and another, until all our fountains have the water bottle refill option. With these small steps come big results, 2400 times two times five, to be exact. Taking action like this leads to helping our animals in the wild, one plastic bottle at a time.