We love our Members. Their incredible support allows us to make a difference to animals both locally and all over the world. This month, we're spotlighting a family of Zoo Members that deserve recognition. We're thrilled to introduce you to January's Featured Members: the Black Family.
We asked the Blacks to tell us a little about what being a Zoo Member means to them. Here's what they had to say.
---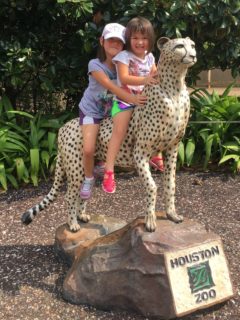 Both my husband and I were born and raised in Houston and we grew up visiting the Houston Zoo.  So it was natural for us to become members when our oldest daughter was born 7 years ago.  How wonderful it has been to be able to share the experiences we had as children with our own!
Over the years, zoo outings have always been a pleasure our girls look forward to.  We come away each time with something new learned. We love the variation in the special events the zoo has to offer in the evening, like Enchantment Under the Sea, Zoo Lights and especially, Feast with the Beasts.  We also appreciate the reciprocity membership gives us at other zoos when we travel.
The zoo has given us a great opportunity for discussing the world around us and teaching our children the responsibilities we have to our earth and its resources.  They've really learned from the small stations set up to teach about conservation and how so many things we use impact animals and their environment.
It's been really fun to talk about the different animals God created and gifted so uniquely for different environments.  Our oldest commented, "It's like they were each given a SUPER POWER!!!"  Our youngest commented "But why did God make bugs?!"
---
From all of us here at the Houston Zoo, we want to say thank you to the Black family and all of our Zoo Members. As a Houston Zoo Member, your support truly makes an impact on the growth of our Zoo and conservation efforts. THANKS!