Zoo News Blog
Houston Zoo Mourns the Loss of Giant Anteater Traci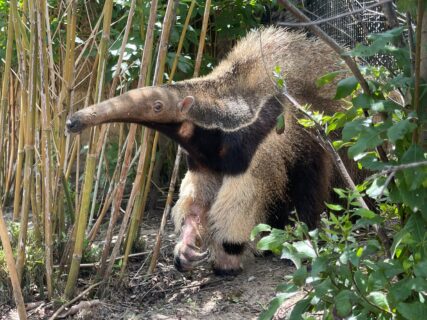 Traci, the 1.5-year-old giant anteater, was humanely euthanized Friday morning after battling an unknown serious medical condition. Traci underwent extensive medical examinations and treatments, including a blood transfusion last week. Our veterinary and animal care staff worked closely with a team of colleagues including veterinarians with the Association of Zoo and Aquarium's Species Survival Plan Program and consulted with a local veterinary surgeon, internist, radiologist, and dermatologist to provide the highest quality care for Traci as possible. Despite this collaborative effort and comprehensive testing, the team was unable to identify what was causing Traci's condition and he did not show significant improvements with his many treatments.
"We assembled the best animal medical team we could for Traci," said Lisa Marie Avendano, vice president of animal operations at the Houston Zoo. "We hope this extensive research will help us learn more about giant anteaters and can help animals like Traci in the future."
Traci was born on March 31, 2020 to mom, Olive, and dad, Pablo. He was often seen clinging on mom's back.
Traci will be missed by the entire Zoo family.