Zoo News Blog
In Honor of World Pangolin Day, Hear the Latest on Wildlife Warrior Elisa's Journey to Texas and Her Quest to Save Pangolins in the Wild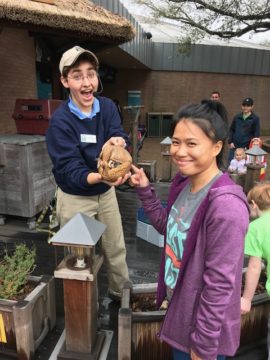 If you made a visit to the zoo during the last week of January, you may have been among our lucky visitors that had the chance to meet Elisa Panjang, a Houston Zoo Wildlife Warrior that works with pangolins in Malaysia. Impressed by her passion about the wildlife she has grown up with and her commitment to saving this fascinating creature from extinction, Houston Zoo staff chose Elisa, a long-time partner of the zoo, as a 2017 recipient of the Wildlife Warrior Award. This award is funded through the sale of saving wildlife bracelets sold by the admissions team here at the zoo, and recognizes exceptional individuals from our wildlife conservation partner programs and provides them with an experience that will increase their abilities/knowledge. Elisa was stateside for a conference in Florida, so we jumped at the chance to bring her to town for a few days to meet with guests and staff!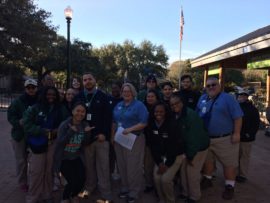 Elisa's short visit was packed with activities, like touring the zoo and visiting with a handful of departments including veterinary staff, the development team, and conservation education. Elisa did a keeper chat with Ali from the Children's Zoo introducing guests to a three-banded armadillo. Together, they were able to share information about both of these unique creatures and talk about some of the characteristics they share like having keratin that creates hard surfaces around their bodies, eating ants and termites, and rolling into a ball in order to protect themselves from danger. Elisa also did a joint presentation for staff with Houston Zoo veterinary technician Jess Jimerson, who traveled to Vietnam last year to work with pangolins at Save Vietnam's Wildlife. Both women were able to talk about their experiences working in the field, and what it will take to save pangolins in the wild. Reflecting on her time at the zoo, Elisa said: "My trip to the Houston Zoo was amazing, and seeing all of the dedicated zoo staff protecting and conserving wildlife gives me hope that those of us in the field are not alone."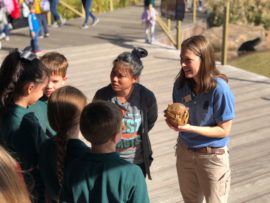 After a whirlwind trip, Elisa returned back to Malaysia, but will be on the road again soon! With the funds from the Wildlife Warrior Award, Elisa will join the Carnivore and Pangolin Conservation Program in Vietnam, a well-known Sunda pangolin rescue and rehabilitation center. She hopes to learn husbandry skills to care for pangolins and gain an insight into conservation issues faced in Vietnam, and what is being done to save their wildlife, which will be important for Elisa to experience herself and eventually use this knowledge and skills to help wildlife in her country. We are so grateful for the time we had with Elisa, and can't wait to hear more about her work in the coming months!