Zoo News Blog
Help Save Elephants in the Wild and Wear Gray for World Elephant Day!

Calling all elephant enthusiasts! Did you know elephant population numbers are rapidly declining in the wild? Do you know there are ways YOU can help protect these magnificent animals in the wild? You can start by joining the more than one hundred zoos and thousands of individuals across the country on Friday, August 12 in celebrating World Elephant Day! Guests that wear gray to the zoo will have a chance to win fun door prizes.
Elephants are the largest land mammals in the world and among the most intelligent animals on earth. Unfortunately, Asian elephants are also among the world's most endangered species. At the turn of the 20th century, more than 100,000 Asian elephants roamed their native habitat. Today, approximately 40,000 Asian elephants remain in the wild. And this number continues to decline due to habitat loss, human-elephant conflict and poaching for their ivory tusks.
Here at the Houston Zoo, we are committed to protecting animals outside of our Zoo gates, and elephants are in serious need of our support. In the past five years, the Houston Zoo has worked closely with partners in both Africa and Asia, funding over $500,000 in field conservation programs.
YOU can help, too! Simply by visiting the Houston Zoo, you help protect animals in the wild – a portion of your admission ticket goes directly to conservation efforts around the world. You can also attend special events throughout the year, such as our Elephant Open House that will be held September 17, 2016 from 8 am – 10:30 am, where registration fees are also donated to conservation efforts.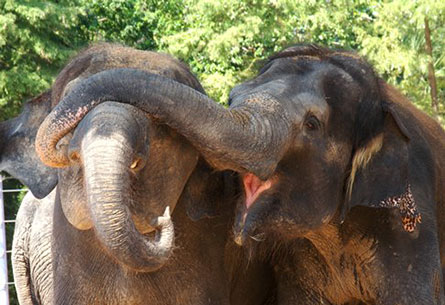 A great time to visit the Houston Zoo is World Elephant Day on Friday, August 12, 2016.
World Elephant Day Activities Include:
11 a.m. – 2 p.m.
Find out more about the Houston Zoo's Asian elephant herd: Thai, Methai, Shanti, Tess, Tucker, Tupelo, Baylor & Duncan
Help keepers decorate enrichment items to give to the elephants throughout the day.
See and have a chance to purchase artwork done by our Pachyderm Picassos!
Learn all about elephant conservation and what YOU can do to help save them in the wild.
Wear gray on your Zoo visit to show your support plus talk with our Zookeepers, while the elephants are outside playing in the yard.