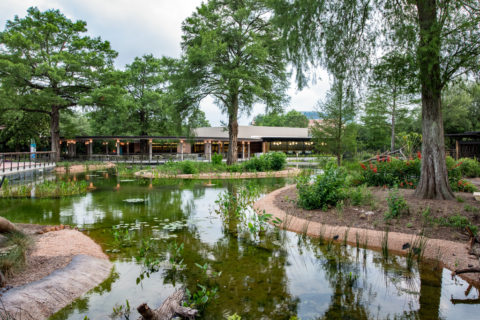 There's a Star Wars Day, International Nutella Day, World Chess Day… there's even a Gummi Worm Day. But World Wetlands Day? Why are wetlands so important anyway?
A wetland is simply land saturated with water — water that supports a mind-blowing number of water-loving plants, which in turn support tens of thousands of animal species. In fact, wetland habitats are considered THE most diverse habitats on Earth!
Wetlands can be seasonal or permanent. They can be strictly freshwater, saltwater, or somewhere in between. They can be tropical or temperate and can be found all over the world. Wetland habitats contain very special types of water-loving plants that support an incredible amount of life. Some animals may live their entire lives in and around a wetland, using the habitat for food, shelter, and even a nursery for their young. Other animals, especially birds, may use wetlands as pit stops on a migration route, frequently stopping to rest and refuel on their long journeys (the equivalent of a long road trip for us!).
Wetlands help prevent flooding by soaking up excess rainwater. Wetland plants prevent erosion by anchoring soil and slowing water velocity during heavy rainfall. Wetland plants can also take in and bind up toxins and pollutants in runoff, resulting in cleaner water and a healthier environment for all of us. Is there anything wetlands CAN'T do?
In the United States, we have lost almost 17 million acres of wetland habitat since the 1950s. But having realized how vital wetlands are for the health of the planet, humans are now protecting, restoring, and even creating wetlands — you can help, too! Did you know you can make your own mini-wetland habitat in your back yard? Or make a really cool natural pool out of your existing swimming pool? Or volunteer to restore wetlands around Texas? All these actions help native wildlife!
You can also help wetland species simply by visiting the Houston Zoo – your admission supports our many conservation efforts around the world. Here at the Zoo, we feature two areas highlighting wetland habitats. The Pantanal in South America is the largest wetland ecosystem on earth; the Zoo's newest exhibit, South America's Pantanal features many of the animals found in this unique tropical Eden.
The other is the Kathrine G. McGovern Texas Wetlands, an exhibit featuring three iconic North American wetland species that were once on the brink of extinction — the bald eagle, American alligator, and whooping crane — plus a fully functioning wetland ecosystem, complete with southeast Texas native plants, fishes, and turtles.
Many wild native species are attracted to this special wetland too. You will see the most activity and diversity in the warmer months, especially insects and birds (and in the evenings — bats!), but every season has its beauty. Be sure to join us in early spring when the iris and spider lilies bloom!
So, come on down to the Houston Zoo and enjoy some wetland plants and animals on World Wetland Day. And if you can't make it today, not to worry — we celebrate the wonder and importance of wetlands EVERY day. See you here!