We're celebrating our five amazing veterinary technicians all week-long during National Veterinary Technician Week, which recognizes the work our veterinary technicians do here at the Zoo. Some of the daily responsibilities include: intubating animals and monitoring anesthesia, venipuncture and placing IV catheters, interpreting blood films, cytologies and fecals under the microscope, taking radiographs, and filling prescriptions. Although you may not see them on Zoo grounds like other staff, they're an integral part of the team, playing an important role in providing exceptional animal health care.
Learn more about each of our vet techs below!
Meet Katie Almeida
Katie has been at the Zoo for five and a half years and one of the things she loves most about her job is how every single day is different and has the opportunity to work with every animal at the Zoo. She knew she wanted to go into this field as she loves animals and has a passion to work with them. She started off her career as as a zookeeper at San Antonio Zoo and after some experience in a veterinary clinic became interested in the medical care of animals. Katie went back to school to become a veterinary technician and found herself drawn to the challenge of working on a multitude of species at the Zoo. What she loves about working at the Houston Zoo is all of the conservation efforts and how the veterinary team plays an integral part in it, working with our wildlife partners around the world.
Katie shares, "One of the most memorable and impactful cases I have worked on is Joy the elephant when she was diagnosed with EEHV. The entire veterinary department and elephant team came together and worked around the clock to give Joy the best treatment and care possible. I really enjoyed the teamwork and seeing our hard work pay off.
If you're interested in working in this field, get as much hands-on experience as you can. Whether it's working in kennels or as an assistant at a vet clinic, it's a great way to start learning. Volunteering at your local wildlife center or zoo is another great way to get experience working with animals.
Meet Jennifer Atkinson 
Jennifer has been a veterinary technician for 12 years, working at the Houston Zoo for the past three years. An average day is full of the unexpected. Vet techs are pharmacy technicians and radiology technicians, phlebotomists and anesthetists. They are surgery technicians and laboratory nerds. As a vet tech, you have to apply your skills to everything from tiny amphibians to the largest land mammal.
Jennifer shares, "Animals bring me so much joy, and I can't imagine spending most of my time doing anything else. I love the people I get to work with who reignite my passion constantly with their love, dedication, excitement, and compassionate care for the animals. It's also incredible being directly involved in our conservation programs including Attwater's prairie chickens, Houston toads, and sea turtles."
If you're interested in becoming a zoo vet tech, aside from the expected schooling and licensing, getting a solid foundation of technical skills working with domestic or exotic species in private practice will help prepare you for the challenges that come with zoo species. Jennifer said, "Don't be discouraged if you don't start in zoo medicine right away, and don't underestimate your experience if it isn't all zoo-related."
Meet Jessica Jones
Jessica has been at the Zoo for two and a half years and has always loved animals. As she worked her way through college, she didn't feel the veterinarian route was the right choice for her. In fact, Jessica started her animal career as a zookeeper at another zoo. After a short time, she realized she wanted to do something a bit more hands-on. Jessica went back to school and completed a veterinary technology program. She spent the first 9.5 years in her veterinary career in a small animal practice where she worked with mainly dogs and cats, but we did do some wildlife rehab. When life moved Jessica to Houston, she applied for an open position here, hoping her years of veterinary experience and some experience in a zoo setting would be beneficial. It all seemed to pay off! She's back working with a wide variety of animals, which she's have always had a passion for.
One big memory that comes to mind for Jessica is being part of elephant calf Nelson's birth. Shortly after his birth, the Zoo's veterinary staff realized he was hemorrhaging severely from his umbilicus. He needed to be rushed to surgery to repair the area, to avoid further bleeding. This was not an easy task with such a large baby! Our amazing elephant team and entire veterinary staff were all hands-on deck as we sedated and transported him to our vet clinic.
Jessica shares, "Being here, I get to work with an incredible team of doctors, technicians, and keepers that are constantly teaching me new things. I love getting to participate in training with various animals who voluntarily participate in their own medical care. Our keepers do an amazing job at preparing the animals for these voluntary behaviors!"
---
Meet Tami Voss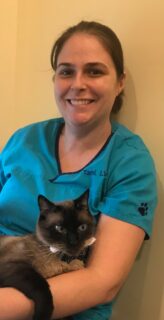 Our newest veterinary technician has only been here for four weeks, but comes with 12 years of experience as a licensed vet tech, most recently working at a local cat vet clinic. Tami wanted to expand her career and education and be more committed to conservation efforts so that's how she ended up here at the Zoo.
She enjoys learning something new about each animal she's worked with and how they medically differ from companion animals. Tami's responsibilities include training and shadowing the veterinary technicians to see how they fulfill each role in the clinic and contribute to the team.
Tami shares, "I knew I wanted to go into the animal field because I've always loved animals and, in particular, wanted to work at the Houston Zoo because of all the conservation work they do. Being able to work on and learn so much about every species at the Zoo has been very rewarding."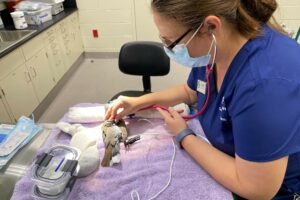 ---
Meet Andrea Lee 
Andrea has worked as a veterinary technician for over 10 years, working at the Zoo for the past seven years. Before the Zoo, she worked with managed wildlife in a research setting and laboratory animals. In the photos above, Andrea is working with one of our sifaka. This animal had signs of pain and discomfort. She was only eating out of one side of her mouth and she was lying down more than usual.  She took a radiograph of her teeth and ended up having multiple teeth that were diseased and needed to be pulled. Andrea got to work with a boarded dentist to do the procedure and once the bad teeth were out she started to feel much better.
Our vet techs also play a very important role in the monitoring our Asian elephants for elephant endotheliotropic herpesvirus (EEHV*). They perform blood counts (CBC), one of the key diagnostics to detect EEHV, on blood samples from the elephants each week. The CBC involves running the blood sample through a machine and then manually evaluating the sample under a microscope. This test is critically important to help keep our elephants healthy and detect EEHV as early as possible.
In February 2020, Andrea was able to travel to Myanmar and participate in the EEHV Workshop as part of a staff conservation fund project. While there, she gave a few different talks on evaluating elephant CBCs and performing a cross matching test on elephant blood that is needed before giving a transfusion. Andrea got to work with conservation partners from all over Asia and help them with difficult EEHV cases.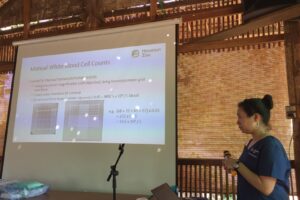 *EEHV is a herpesvirus that is naturally carried by both Asian and African elephants. Herpesviruses are common in all mammal species, including humans.