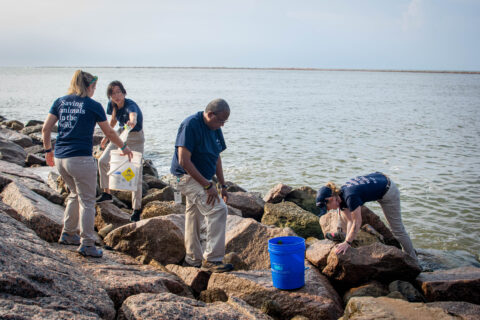 This Global Recycling Day, we're highlighting the Zoo's efforts to recycle fishing line and trash that can cause harm to marine animals along the Texas Gulf coast. 
We do everything we can to save the wild counterparts of the animals we have at the Zoo. We conduct wildlife-saving actions for animals like sea turtles and sea lions at the Zoo and in the wild, supporting our wildlife-saving mission.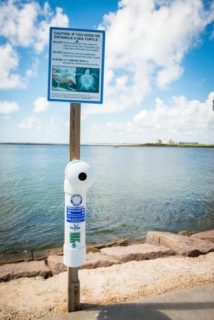 Since 2014, Zoo staff have made trips to Surfside Jetty in Galveston to clean up trash and recycle discard fishing line to reduce the chances of animals, like sea turtles, from ingesting or becoming entangled in it. This wildlife-saving effort was spearheaded by our sea lion staff to protect wildlife from ocean trash. Zoo staff clean up in the jetty and empty specially designed fishing line recycling receptacles. 
Once everything is collected at the jetty, items are recycled and disposed of. The fishing line is then brought back to the Zoo where volunteers help sort and clean what can be recycled. Fishing line can be melted down and repurposed into items like tackle boxes and portable camp chairs.
So far the Zoo has recycled 443 pounds of fishing line recycled, and collected 1,870 pounds of recyclables and 3,496 pounds of trash from Galveston.
The Zoo provides medical care for an average of 100 injured wild sea turtles a year, and some of them have become entangled in fishing line, or ingested trash. Fishing line is difficult for animals to see in the water, so they can easily become entangled in it, and plastic trash often looks like food to wildlife like sea turtles.  Properly disposing fishing line and reducing waste by using reusable straws, bags, and bottles will protect ocean animals from this threat. If you're hanging out at the beach this spring, make sure trash makes its way to a receptacle and when fishing, be sure to pull your line back in and dispose of any unused bits in one of the fishing line recycling bins (pictured above) along beaches and jetties to help us save animals in the wild.