Zoo News Blog
Five Animal Habitats to See in the Galápagos Islands Exhibit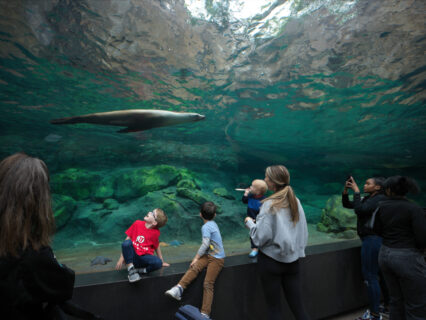 Our brand-new exhibit, Galápagos Islands, is sure to become your favorite spot when you visit the Houston Zoo! As we approach the warmer months, our exhibit will be a great place to stay cool (and avoid Houston rain showers) as most of the exhibit is indoors and air-conditioned. As a reminder, this exhibit is included with general admission and is free for members. Reserve your tickets online!
Animal Highlights
Check out five of the many animal habitats you won't want to miss inside our new exhibit. We're thrilled to be the first zoo in the world to build an exhibit that highlights the beauty of the Galápagos Islands.
1. California Sea Lions
As you approach the exhibit's entrance, you'll first encounter Sea Lion Coast, a wave-tossed volcanic shoreline where our sea lions can be seen swimming and basking in the sun. Our sea lion colony includes Kamia, Cali, Max, TJ, and Jonah, along with four new sea lions from California: Ariel, Calypso, Freya, and Gaia.
As you explore our new exhibit, you'll get to come eye-to-eye with them as you go "underwater" in our 40-foot-long acrylic tunnel and feel as if you're fully submerged under the ocean, surrounded by sea lions swimming on both sides and overhead. It's already become a guest (and staff) favorite! Don't miss their daily keeper chat at 11:00 a.m. at their new amphitheater.
Fun fact: Sea lions can swim at speeds of up to 25 mph in the water.
2. Humboldt Penguins
Houston, we have penguins! They are a first for us at the Houston Zoo and we couldn't be more excited! See our playful penguins waddle along a volcanic rock beach and zoom through the water below. We currently have 10 as part of our colony, with five more joining the group later this month.
Fun fact: Humboldt penguins share their name with the chilly Humboldt Current, which flows north from Antarctica along the Pacific Coast of South America, where the birds live. Both birds and current are named after the 18th-century explorer Alexander von Humboldt.
3. Galápagos Tortoises
See our giant Galápagos tortoises lumber about, grazing on grasses, or wallowing in muddy puddles in their boulder-strewn volcanic meadow. Our group has grown from 3 to 10 Galápagos tortoises and they have different elevations throughout the habitat that mimic their environment in the wild. 
Fun fact: Our tortoises eat about 50 heads of lettuce three times a week.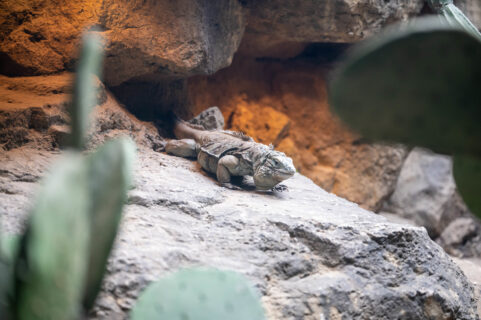 4. Grand Cayman Blue Iguanas
After viewing the tortoise habitat from the outdoor trail, you'll move through a crevasse in the lava hillside, entering a vestibule where you'll see Grand Cayman blue iguanas sunning themselves on the ledges of a rocky outcropping. Blue iguanas in the Caribbean and four species of iguanas found in the Galápagos share similar evolutionary origins and threats to their survival. 
5. One Ocean Aquarium
Spanning 40 feet of clear acrylic reveals our mesmerizing One Ocean aquarium. The 290,000-gallon habitat appears to extend indefinitely to the open ocean beyond and is home to a green sea turtle named Bobbi, blacktip reef sharks, bonnethead sharks, cownose rays, and 20+ species of fish. The unique coral reef structures and volcanic boulders were crafted by artisans to accurately represent the sea floor off the coast of the Galápagos Islands. You may even spot Bobbi using some of the coral reef to scratch her back as she swims around.
---
Bonus: New Interactive Zoo Map
As you gear up for your next visit, be sure to use our brand-new interactive Zoo map where you can view our real-time Meet the Keeper Talk schedule, navigate throughout the Zoo, including the new Galápagos Islands exhibit, and see a directory listing of Zoo areas. You can access the map while on Zoo grounds using your smartphone. To get started, click on the continue to interactive map button and then tap on share location so you can navigate to different areas in the Zoo with ease.