Zoo News Blog
The 2018 Sea Lion Save Our Species Event: The Who, What, When, Where, and Why!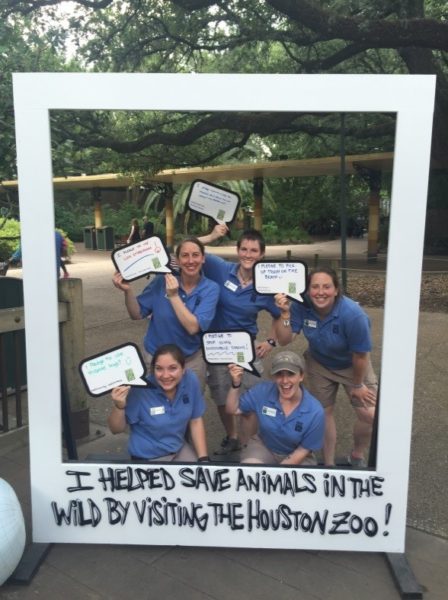 Come one, come all, to the Spotlight on Species party here at the Houston Zoo! On Sat., June 9th, from 10:00 a.m.-3:00 p.m., join the sea lion department and learn more about sea lions and how we can better take care of our oceans with fun activities, special sea lion presentations, and zoo-wide World's Ocean Day festivities.
To commemorate your visit make sure to check out the merchandise table before you leave.  Our sea lions are helping make this Spotlight on Species memorable, so we made one of a kind painted (by sea lions!) reusable canvas bags and pilsner glasses that you could take home. The sea lion team banded together and has created some crafts as well, in order to raise money to support causes near and dear to our hearts.
All proceeds from the merchandise sold will be going to two separate causes: Houston Zoo partner Dr. Marcy Uhart and her marine debris efforts in Argentina and Surfside Jetty cleanup.
A conservationist based in Argentina, Dr. Uhart works with the University of California Davis to protect a variety of marine animals such as sea turtles, sea lions, sea birds, and whales. A portion of the proceeds from the sea lion Spotlight on Species event will be donated to Dr. Uhart to help her host a behavior change workshop for the local communities. In addition to providing training, funding will assist in being able track their results from data collected, all in an effort to reduce marine debris on the beaches of Argentina.
The Surfside Jetty cleanup is a conservation project right in our own backyard, started in 2014 by the Houston Zoo sea lion team. Each month the sea lion team leads a jetty clean up at the Surfside Beach jetty, Texas. With the help of other staff members and volunteers, we have collected approximately 260 pounds of fishing line (monofilament), 1192 pounds of recyclables, and over 2000 pounds of trash! The trash and recyclables get disposed of properly, and the monofilament gets taken back to the zoo where it is sorted and cleaned. Once cleaned, the line gets passed on to the National Oceanic and Atmospheric Administration (NOAA), who ensures that the monofilament is recycled. The profits from our SOS event designated for this local conservation effort will provide more supplies and tools to help keep our beaches clean and our wildlife healthy. We are hoping to see this project grow and involve the community…stay tuned!
By visiting the Houston Zoo, YOU are helping to save animals in the wild, and making memories that will last a lifetime.
On behalf of our sea lions here at the Houston Zoo, as well as ALL of their marine animal counterparts in the wild…we hope to see you here!!