Parking Options & Alternatives
Hermann Park Parking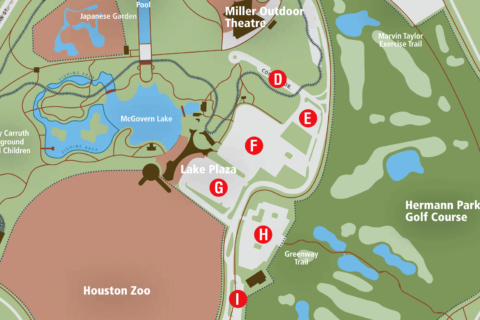 The Houston Zoo does not have its own parking lot; free parking is available in Hermann Park. On busy days, these lots can fill quickly.
Guests can park in Lots G, F, E, D, H and I as indicated on the Hermann Park Parking Map.
An additional parking option is the Centennial Gardens, Lot C on the Hermann Park Parking Map. It is limited to three-hour parking and is accessed from outside the park at Hermann Dr. and Crawford St.
Map is provided by the Hermann Park Conservancy. 
Parking is not owned or operated by the Houston Zoo.
Rideshare
Use your favorite "rideshare" app on your next visit to the Zoo. These services can drop you off and pick you up right at our main entrance, located at 6200 Hermann Park Drive, and you can save time and eliminate parking hassles with this convenient solution.
Hermann Park Dr. is closed; how do we get to the Zoo?
When traffic is heavy in Hermann Park, city police officers will make Hermann Park Drive one way, preventing vehicles from turning into the park from Cambridge. When this happens, consider driving to offsite parking as lots in the park are likely to be full. To get into the park, continue on Cambridge until you arrive at Fannin. A right on Fannin or Main will take you to a roundabout; turn right onto Hermann Park Drive and continue through the park to reach the Zoo.