Four ZooMobile Options for Your School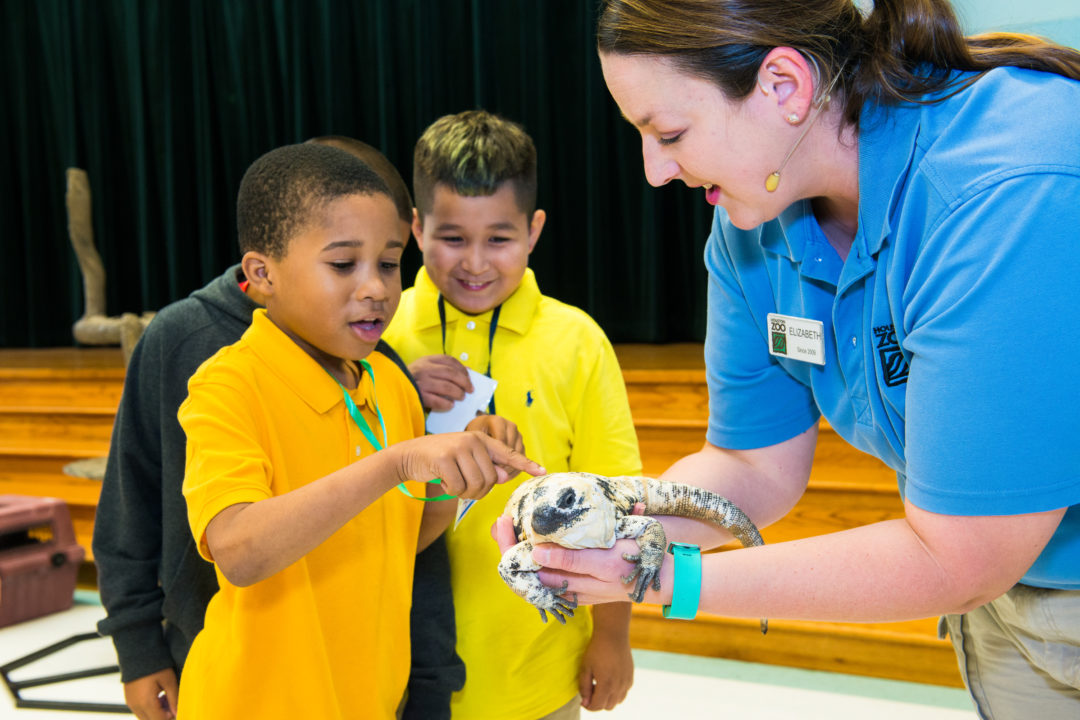 Classroom Program
Tailored for grades preK – 5
Up to 35 participants per program
30 minute program includes touchable Ambassador Animals!
$175 for the first program, additional programs $150
Topics to Choose From:
Animal Storytime
Ecosystem Explorers
Animal Adaptations
Food Webs
So, You Want to be a Zookeeper?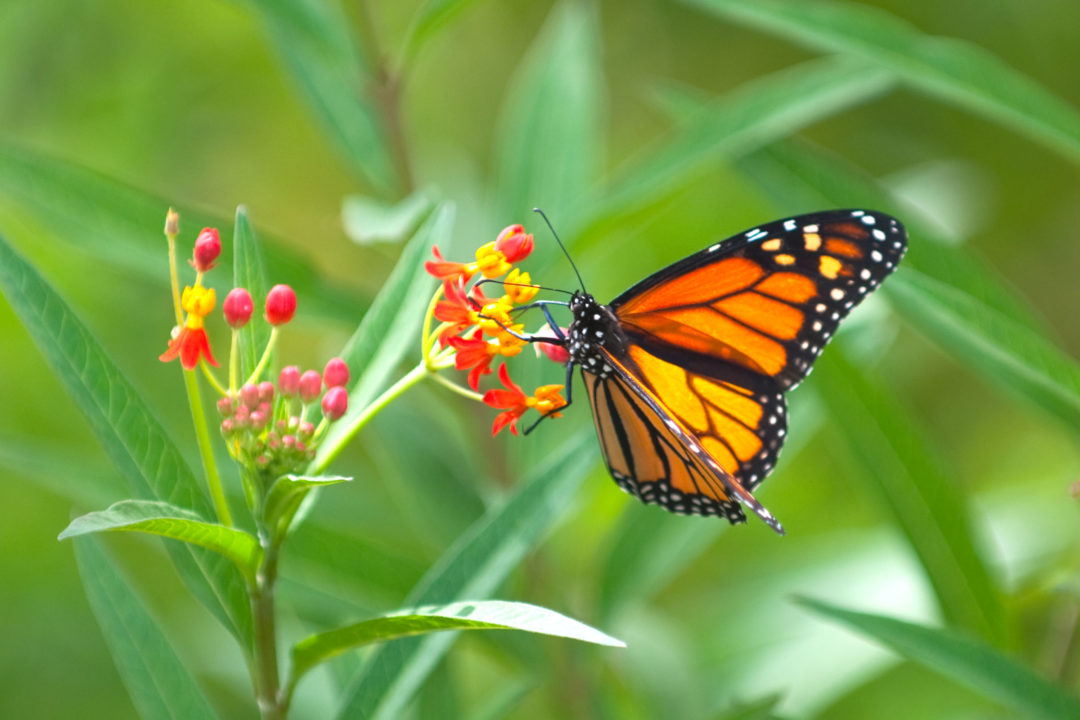 Special Edition Classroom Program:
Explore Your School Garden
Tailored for grades 2 – 5
Up to 35 participants per program
60 minute program includes touchable Ambassador Animals!
$200 for the first program, additional programs $175
Get outside and investigate! Students will use Vernier ProScopes and iPads to explore the plants and animals that call their schoolyard home. The green space around your school is the perfect place to make observations, share findings, and understand the natural world. In this program, students will head outdoors to meet animals up close and utilize new technology. Students will have the opportunity to gain a greater sense of appreciation for nature right outside their classroom.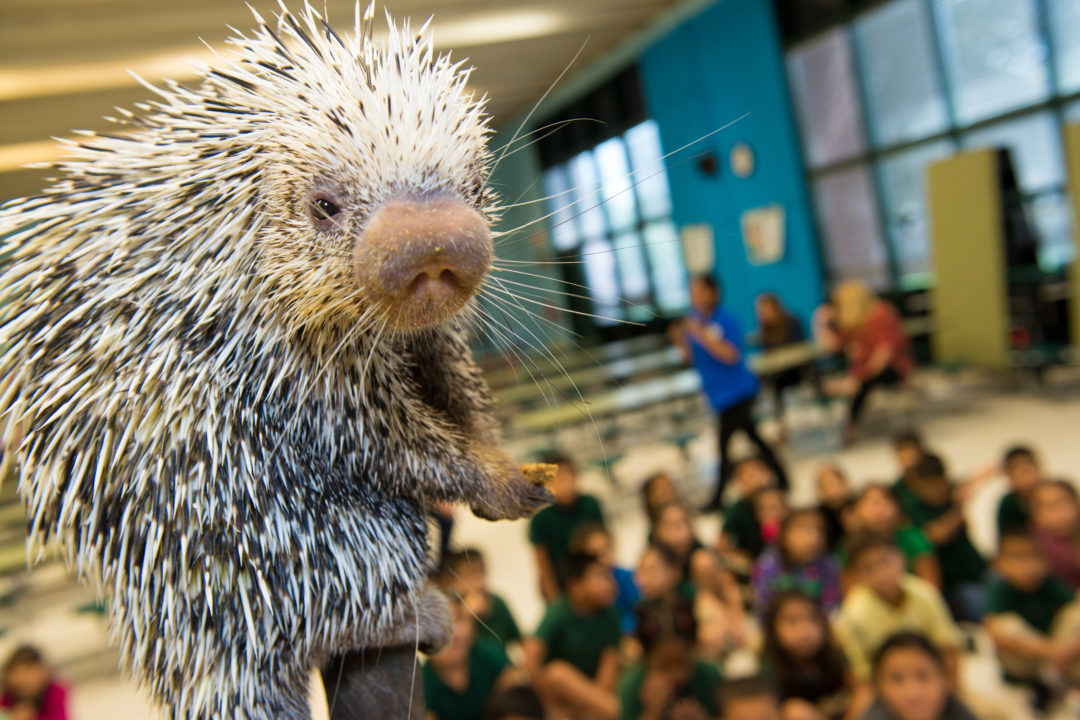 Assembly Program
Tailored for grades 1 – 5
Up to 100 participants per program
45 minute program includes Ambassador Animals! 
$275 per program
Topics to Choose From:
Deep in the Heart of Texas
Giant Armadillo Adventure
Endangered Species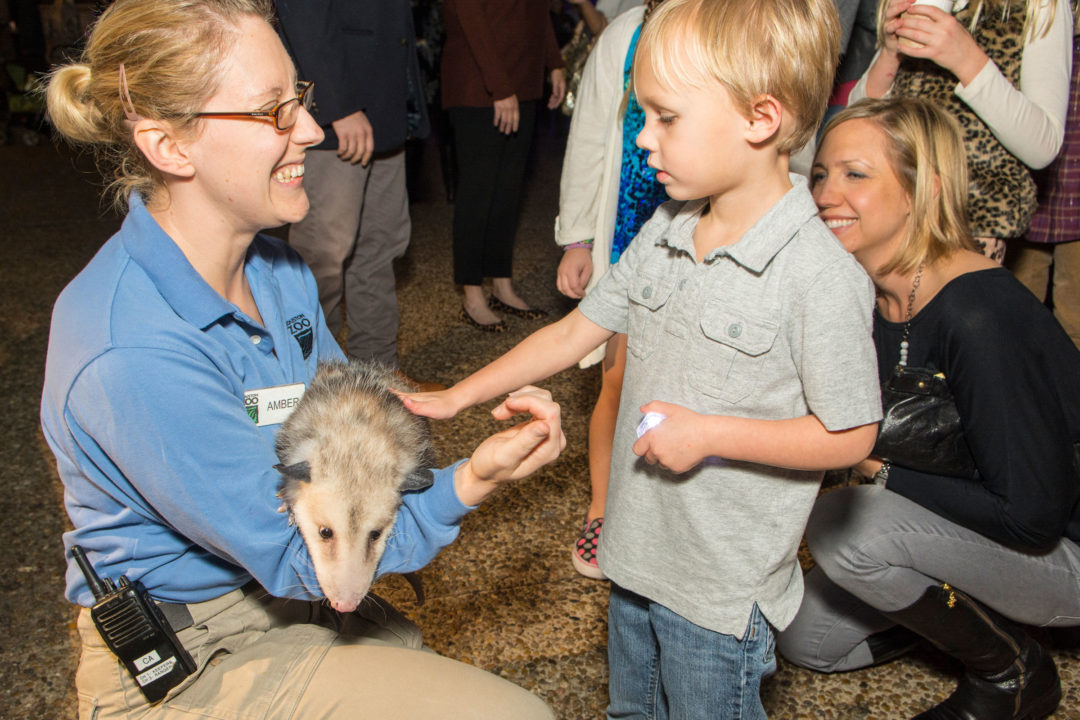 Science Night Festival Program
Great for any grade level
No limit to number of participants
Maximum of 2 hours
Includes touchable Ambassador Animals!
$375 per program
Topics to Choose From:
Travel Around the Globe
So, You Want to be a Zookeeper?
Topics
Animal Storytime
The only things kids love more than Storytime are animals. Students will experience a story and meet live animals featured throughout the book. This program is perfect for Pre-K groups.
Ecosystem Explorers
Discover all organisms need the same components from their habitat in order to survive: food, water, shelter and space. Join us as we explore some of the world's most incredible landscapes. From sand ridden deserts to the tops of the rainforests we will discover unique places and meet the live animals that call them home.
Animal Adaptations
Explore the many tools that animals use to survive in their environments. From the fiercest hunters to the fastest sprinters, animals are equipped to thrive in the wild. Learn how these characteristics equip animals to hunt, forage, and protect themselves in the wild. Students will meet ambassador animals and see their adaptations up close.
Food Webs
Come unravel the intricacies of the food web as we discover how every animal in an ecosystem relies on one another. From soaring birds of prey to blooming flowers, all living organisms play a vital role in the environment. Do you know what your role is? Meet ambassador animals and discover what role they play in a food web.
So, You Want to be a Zookeeper?
Try a zoo career on for size! Explore some different tools of the trade that help a zoo run. Whether you want to work with animals as a keeper or veterinarian. Maybe you want to be and architect or engineer and design exhibits for animals. A zoo is like a mini-city where everyone plays a role with a different skill set that is needed in order to care and protect animals. This program opens student's eyes to the diversity of careers associated with a zoo and how to prepare for them.
Deep in the Heart of Texas
Texas is a big place that has many different habitats. From the Pineywoods to the Panhandle, the Red River to the Rio Grande, join us as we take a tour of the state and discover the amazing diversity of animals that call Texas home. In this program, students will meet a variety of ambassador animals native to our state.
Giant Armadillo Adventure
You think things are big in Texas? Take a trip to the largest tropical wetlands in the world, Brazil's Pantanal, and learn about the elusive giant armadillo. Measuring in at five feet long, this incredible animal is an important ecosystem engineer. Discover how scientists are learning about this species right now and meet a few of the species that share its home.
Endangered Species
Endangered species in the wild face a variety of threats ranging from pollution to habitat loss. Discover what the Houston Zoo and our partners are doing to save these amazing animals in the wild. Take action by joining us in our efforts to help wildlife.
Travel Around the Globe
Explore the diversity of worldwide habitats and learn how animals survive in different places around the world. This program uses a variety of ambassador animals and will educate students about ecological concepts while instilling a sense of environmental stewardship towards the global ecosystem.
Looking for a ZooMobile for your next community event?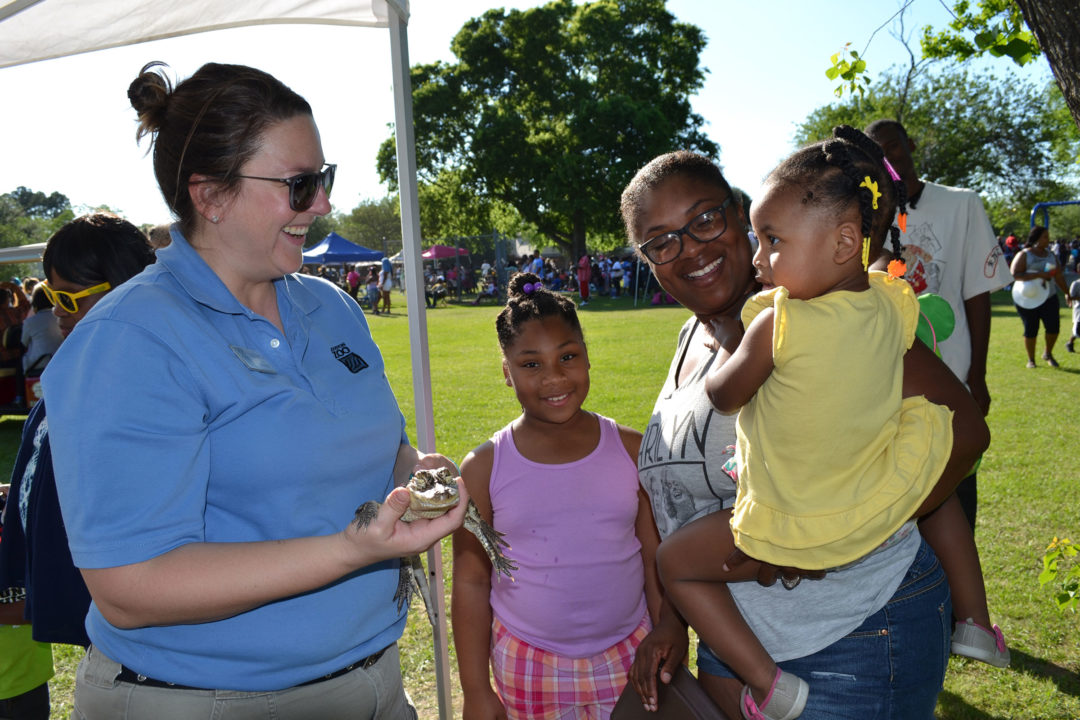 Community Festival Program
An informal, up-close experience that is perfect for your community festival or other events. A Zoo Educator with an intriguing selection of animals and artifacts will provide two to four hours of engaging programming centered around how each of us can save animals in the wild from right here in Houston.

Maximum of four hours
No limit to the number of participants
$375 for the first two hours
$250 each additional hour
Includes Ambassador Animals!
Booking Your ZooMobile
Before you book, please be sure to read our policies and procedures. Note that ZooMobiles are an educational presentation for schools, organizations or festivals; we do not provide animals for a "petting zoo" experience, birthday parties, or private residences.
ZooMobile Policies and Procedures for website
Send us your request today! You won't need to provide payment until we confirm your reservation.
Are You Far Away? Mileage Fees
Due the added cost of a long drive, we add trip fees by estimated mileage. The Directions in Google Maps can help you calculate your estimated mileage from 6200 Hermann Park Dr, Houston, TX 77030.
1-10 Miles – $25
11-25 Miles – $50
26-40 Miles – $75
41-55 Miles – $100
56-70 Miles – $125

We travel no more than 70 miles. Fees are assessed using Google maps and are measured from the Zoo to the program location.
Ambassador Animals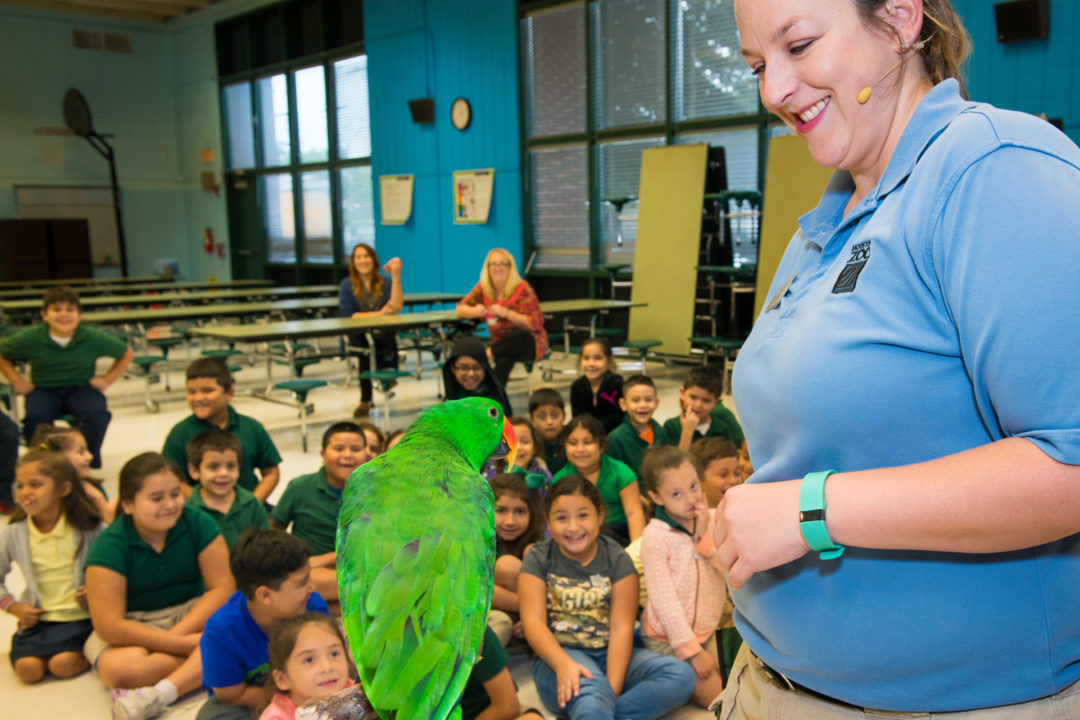 The ZooMobile provides an opportunity for you to get up close and interact with our ambassador animals. Connect with a variety of animals such as a chinchilla, screech owl, porcupine and many more. Learn what they eat and how they are cared for as a member of the Houston Zoo family. Meet our amazing ambassadors and find out how you and your group can take action to save animals in the wild on your next ZooMobile!
We'll surprise you with a selection of delightful critters; it is not possible to reserve specific animals when you schedule your ZooMobile.
Need more information? Don't see a program that fits your needs?
Contact us at education@houstonzoo.org, and we can answer your questions.